The Best Man Holiday On Its Way Toward A Sequel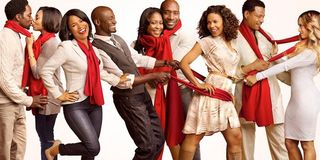 It took 14 years for a sequel to The Best Man to get made, but after that movie's Massive opening weekend, the third film in the series will come a whole lot sooner. Malcolm D. Lee's The Best Man Holiday, which reunited the cast of The Best Man, made a whopping $30 million over the weekend, and now Deadline reports that Lee is negotiating a deal with Universal Pictures to write, direct and produce another film in the series.
Though the entire cast of The Best Man agreed to return for Holiday, and at relatively low paydays given the film's $17 million budget, none of them have options for a third film, which practically guarantees major salary negotiations (this is why Marvel makes people sign nine-picture deals). Still, most of them ought to be happy to return, salary or not-- Taye Diggs' last film before The Best Man Holiday, Baggage Claim, opened to $9 million, while Morris Chestnut last starred in this summer's nasty flop Kick-Ass 2. Nia Long, who's one of the film's highlights as career woman Jordan, was last seen on the big screen in something called Mooz-Lum, Monica Calhoun's last credit was on TV's Diary of a Single Mom, and Sanaa Lathan was in Steven Soderbergh's Contagion, which still didn't make as much money as The Best Man Holiday Will. Even Terrence Howard, an Oscar nominee and Marvel veteran, hasn't had a movie open that big since Iron Man. In short, everyone in the cast has a good reason to come back-- and to not be quite so expensive that they get kicked out.
Then again, Howard has a track record for nasty money disputes, so who knows what happens there.
Even if you didn't see The Best Man in 1999, The Best Man Holiday is a slightly sentimental but extremely fun romantic comedy; as Sean wrote in his review, "The Best Man Holidayis a realistic, honest, uncomfortable, funny, sexy and smart conversation between long-time friends reuniting after years apart for a weekend-long holiday gathering. If you first met these characters back in Lee's crowd-pleasing 1999 comedy The Best Man and buy a ticket expecting more of the same, the movie pretty much delivers." So check it out this weekend once you're done catching fire, and if you have suggestions of what crazy plot devices can get involved in the third film, please share them in the comments.
Your Daily Blend of Entertainment News
Staff Writer at CinemaBlend