Weekend Box Office: Best Man Holiday Celebrates Success, Thor Holds On To Number One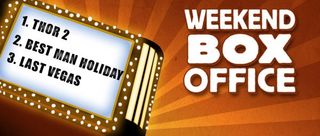 It was a weekend worth celebrating for the heavily marketed The Best Man Holiday. The follow up to the lesser known 1999 release The Best Man banked $30 million against its modest $17 million budget for a financially solid opening.
Holiday marks the highest opening for director Malcolm D. Lee and, given this opening success, may mark a franchise opportunity. Any franchise would be better than his last: as the helmer of Scary Movie 5 Lee found himself sucked into one of the most useless film series to haunt the screen.
Despite The Best Man Holiday's success, Thor: The Dark World held on to first place, adding $38 million to its $146 million domestic total. It passed The Wolverine to become the third highest grossing comic-flick of the year, but looks to fall well short of Man of Steel and Iron Man 3 and their $291 million and $409 million respective totals.
Gravity climbed to the fifth highest grossing film of the year to date with its $240 million domestic total. It's not likely to move any higher up that chart, but with only a handful of films set to release in the last few weeks of the year, it's a lock to stick in the top ten of the year and one of only two or three non-sequels on that list.
For the full weekend top ten, check out the chart below:
1.
Thor: The Dark World

$38,454,000Total: $146,965,000LW: 1
THTRS: 3,841
2.
The Best Man Holiday *

$30,593,000Total: $30,593,000LW: N
THTRS: 2,024
3.
Last Vegas

$8,850,000Total: $46,958,000LW: 4
THTRS: 3,237
4.
Free Birds

$8,300,000Total: $42,218,000LW: 3
THTRS: 3,510
5.
Jackass Presents: Bad Grandpa

$7,670,000Total: $90,202,000LW: 2
THTRS: 3,190
6.
Gravity

$6,280,000Total: $240,556,000LW: 6
THTRS: 2,560
7.
Ender's Game

$6,200,000Total: $53,777,000LW: 5
THTRS: 3,236
8.
12 Years a Slave

$4,700,000Total: $24,949,000LW: 7
THTRS: 1,411
9.
Captain Phillips

$4,500,000Total: $97,617,000LW: 8
THTRS: 2,626
10.
About Time

$3,462,000Total: $11,568,000LW: 9
THTRS: 1,280
Your Daily Blend of Entertainment News
Thank you for signing up to CinemaBlend. You will receive a verification email shortly.
There was a problem. Please refresh the page and try again.