Terrence Howard Says Robert Downey Jr. Took His Iron Man 2 Contract Money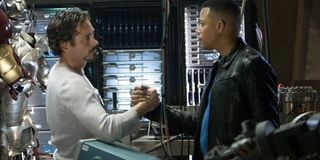 You don't even have to follow Hollywood gossip to know that something went down between Iron Man, Iron Man 2 and Terrence Howard. The actor was cast as James "Rhodey" Rhodes for 2008's Iron Man, fresh off an Oscar nomination for Hustle & Flow and seeming like the obvious choice for this high-profile, future superhero role. Then Howard was left behind when it came time to make Iron Man 2, and from the very beginning he hasn't been shy about explaining why; talking to NPR in October of 2008 he had this to say:
Reuniting with the cast of The Best Man for this weekend's comedy The Best Man Holiday, you'd think Howard might be in better spirits, but appearing on Bravo's Watch What Happens Live (via Vulture), he pulled out the knives yet again, and this time aimed them at Iron Man himself, Robert Downey Jr.:
Wowza! Now, we all know that Downey is paid extremely handsomely to play Iron Man, and that Marvel is notorious for playing crazy hardball with pretty much all of its other actors, and it's completely believable that Howard's departure happened the exact way he said it happened on Bravo last night:
I have no idea how Hollywood contracts work and if it's at all legal to just backtrack on somebody like that, but Howard clearly has reasons to still be bitter after all these years (and not just because Don Cheadle did a pretty great job of taking his place). Since he walked away from one-eighth of that Iron Man money Howard has kept reasonably busy, popping up in everything from this fall's gritty crime drama Prisoners to Lee Daniels' The Butler, in which he seduces Oprah Winfrey. That's not a bad fate for any working actor, but it's probably hard to go from the peak of an Oscar nomination and a superhero franchise to anything else-- especially if you think your old friend managed to take some of your money in the process.
Your Daily Blend of Entertainment News
Staff Writer at CinemaBlend