Bette Midler Would Be Perfect As Jennifer Lawrence And Amy Schumer's On-Screen Mom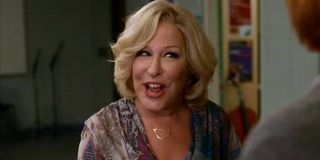 We've already started dream casting Amy Schumer's mom in her upcoming mother-daughter comedy, but we didn't even consider who should play the maternal figure in her film with Jennifer Lawrence. Who could possibly mesh with these soul sisters' kooky, outrageously over the top, and infectious personality? How about Bette Midler?
The singer-actress threw her name into the ring on social media when she Tweeted her suggestion for who to play the mom of Schumer and Lawrence. Spoiler alert: it's her. She wrote,
"Divine" refers to both Midler's stage presence, The Divine Ms. M, and her recent tour. She wrapped up the American leg of her "Divine Intervention" tour with an 18-song set at the Barclays Center in Brooklyn, New York.
Jennifer Lawrence recently let slip that she and Amy Schumer were working on a screenplay together for an upcoming comedy during an interview with The New York Times. After discussing The Hunger Games: Mockingjay - Part 2, which will hit theaters in a couple months on November 20th, she revealed tidbits on the film, which is about a pair of sisters. Both funny gals are co-starring in the film, and Schumer's sister Kim, who worked on Trainwreck, is helping to finalize the screenplay. The two had been making headlines for their adventures in jet skiing, making human pyramids, and dancing on stage at a Billy Joel concert. This film is just the icing on top of it all.
While an actress has yet to be announced in a motherly role for this untitled film, Midler would be perfect for the part. She's not like a regular mom; she's a cool mom! And the fact that she recently resurrected her performance of "I Put A Spell On You" from Hocus Pocus is mind-blowing. All we want is to see this woman sashaying into the living room dressed as Winifred while Schumer and J-Law are trying to have sister time or something. I don't know. I'm not on scripting duties.
Nevertheless, the supporting characters in this movie will likely be hotly contested, and there's no harm in starting the campaign now. Schumer is the most buzzed about comedienne in the industry at this moment, thanks to her success with her Comedy Central series Inside Amy Schumer, her stand-up specials, and her journey to the big screen. As mentioned earlier, another post-Trainwreck project is a mother-daughter comedy with 50/50 director Jonathan Levine. Lawrence, meanwhile, is the biggest actress in Hollywood. Period. Aside from the Hunger Games films, which are coming to end this year, she has another David O. Russell film coming this December and a sci-fi film in which she co-stars with another major A-lister, Chris Pratt. And we also can't forget her superpowered role in the X-Men movies, her next coming in the form of Bryan Singer's X-Men: Apocalypse.
Needless to say, whomever lands the role of their on-screen mom will indeed be divine, regardless of whether or not it's Bette Midler.
Your Daily Blend of Entertainment News