The Biggest Oscar Nomination Mystery: What Happened To Ben Affleck?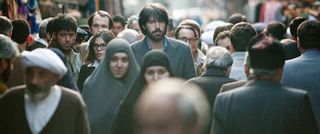 Even given all the morning's huge Oscar nominee surprises, there are ways to explain most of them. Jacki Weaver was part of a movie that was very, very well-liked by the Academy and not facing much competition, so even though her role in Silver Linings Playbook was slim, she made it in. Amour won the Palme d'Or and is directed by an internationally recognized auteur, so even though it's a foreign-language film that has made less than $500,000 in theaters, it makes it in to Best Picture.
But the snub I can't explain, no matter how many directions I take it, is the absence of Ben Affleck in the Best Director field. The actor-turned-director had steadily built his profile from the small-scale Gone Baby Gone to the surprise hit The Town, and with Argo he seemed to have delivered absolutely everything the Academy loves: an incredible true story, a film that pokes fun at Hollywood while also reveling it, a financial hit, and an irresistible tale of an actor redeeming himself as a director. These are the people who gave Kevin Costner and Mel Gibson Best Director statues, for God's sake. Affleck was a guarantee for a nomination, and a lot of people had him down for a win too.
But now he's out of the Best Director race entirely, leaving Steven Spielberg to almost surely take home his third statue, with Ang Lee, David O. Russell, Michael Haneke, and first-timer Benh Zeitlin to round out the field. The absence of Kathryn Bigelow is almost as mystifying, but can be explained away, thanks to her Best Director win just three years ago and the controversy that Zero Dark Thirty has engendered from its depiction of torture-- in liberal Hollywood, some might have just been nervous about getting behind a movie that seemed to back up the Bush agenda. Bigelow's snub is strange, sure, but explicable-- while Affleck remains a total mystery.
Did they just not like Argo enough? Not really-- it still earned 7 nominations, including Best Picture and Adapted Screenplay and the expected Supporting Actor nod for Alan Arkin. Is Affleck unlikable? Pretty much the opposite-- he's done endless press and interviews and schmoozing with voters, and has been recovering all the prestige he lost back in the Bennifer days. Is Argo not enough of a technical accomplishment to merit consideration for the director? Doubtful-- even watching the opening scene, a recreation of the takeover of the American embassy in Iran, is proof that Affleck has studied well at the feet of great directors and is on his way toward becoming one himself.
He doesn't need a Best Director Oscar nomination to prove that, of course, and the idea of pitying Ben Affleck is ridiculous, even this morning. Attempting to look for logic in Oscar nominations is always a fool's errand, since they are awards voted on by large groups of people with wildly different ideas of what makes a movie good, and sometimes agendas to go along with them. But we always search for narratives in awards season, and ever since Argo opened in September one of the strongest narratives of all has been Ben Affleck's road toward Oscar. Now that the narrative has unraveled, can we go back and figure out what we got wrong? Or is this just going to join the many, many baffling Oscar stories that never get solved?
Your Daily Blend of Entertainment News
Staff Writer at CinemaBlend