Bill Paxton Channeled His Own Father For 2 Of His Sleaziest Roles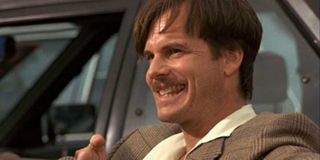 Bill Paxton is one of the greatest character actors of his generation. Not only does he have a distinctive drawl and a unique face, but he's also able to meander into a variety of eclectic roles with minimal fuss and bring them to life like a consummate pro. Along the way he had a helping hand from his pops, who he drew inspiration from for two of his sleaziest roles, in True Lies and Weird Science. But as bad as that sounds, he did so in a loving way.
Bill Paxton made this admission while talking to Entertainment Weekly about fifteen of the most important roles of his career. Paxton, who is currently hard at work promoting his work on History Channel's Texas Rising, explained that for his break-through performance as Chet in 1985's Weird Science he drew a lot of inspiration from his father, John Lane Paxton. In Weird Science, Chet Donnelly is the older brother to Ilan Michael Smith's Wyatt Donnelly, and he is a rather awful human being.
Paxton admitted that one of the film's most legendary lines, which takes place when Wyatt is hungover and sees Chet ask his sibling if he'd like a "nice greasy pork sandwich served in a dirty ashtray," was taken verbatim from his own experiences with his pops. He explained:
Bill Paxton decided to return to the same well for inspiration after he was cast in James Cameron's 1994 action flick True Lies. Cameron, who Paxton first met while working in the art department for 1981's Galaxy Of Terror ,on which Cameron was second-unit director, asked the actor to play a rather deplorable sleaze in the shape of a car salesman.
While helping to mold and evolve his character into a more complete, yet still utterly loathsome persona, he incorporated more lines from his childhood. Paxton admitted:
Following his efforts in Texas Rising, Paxton will next be seen in Pixies and Term Life, which isn't nearly enough, because the world of cinema is a much darker place without the outstanding actor constantly popping up.
Your Daily Blend of Entertainment News