Billy Bob Back To Hurting Santa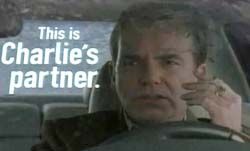 "Only morons are nice at Christmas." Those are the wise words of the eminent humbug Yuletide sage Billy Bob Thornton. In 2003 he fucked up the mythology of Santa… quite literally. It was in a department store dressing room with a heavy set chick. This year, he's back shooting people and generally ripping folks off for the holiday season, in the Christmas themed caper comedy The Ice Harvest. It looks like Billy Bob and I will be spending the holidays together again.
The film also stars John Cusack, you know the guy from all those horrible romantic comedies. He was cool once. Maybe opposite Billy Bob he can be again. The cast for The Ice Harvest looks positively wonderful, and so does the trailer which we've just received on the wire (We don't actually have a "wire" but it sounds cool to say we do. Actually it was just an email.) from Focus Features. If there's any complaint to be levied at it, it's that it smells a bit like Trapped in Paradise, but with ten times the potential.
Take a look at the trailer yourself by using one of the links below. Choose the size that best fits you and click.
Your Daily Blend of Entertainment News