The Bizarre Reason Thailand Cinemas Refuse To Screen The Hunger Games: Mockingjay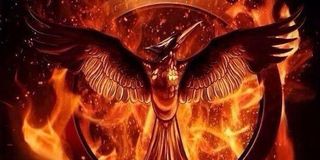 In The Hunger Games, the spirit of rebellion within Katniss Everdeen inspires revolt in the oppressed districts of Panem. Well, the fictional heroine is also inspiring students in Thailand, and it's not going unnoticed.
THR reports Thailand's theater chain Apex Group has pulled screenings of The Hunger Games: Mockingjay - Part 1 following the arrests of five university students for using Katniss's three-finger salute of defiance against the country's Prime Minister Prayuth Chan-Ocha. Apex Group has told the Bangkok Post there was no pressure from the new administration to pull the film from their screens. Instead, the company insists it "did not want to become embroiled in a political movement." However, it should be noted that the three-finger gesture is banned by the military-imposed government.
This is an eerie case of life imitating art. In The Hunger Games movies, this same gesture is a symbol of unity of the rebels of Panem, and so is designated an act of treason by the tyrant Snow. In Thailand, activists pushing for the nation to become a democracy began using the gesture back in May, when General Prayuth Chan-Ocha led a military coup that made him the nation's prime minister. It was he who made this Hunger Games nod illegal.
The students who were recently arrested attended a speaking engagement of the new prime minister. They displayed t-shirts that read "We Don't Want the Coup" and raised their fingers in the iconic gesture before being dragged away by military police. From there, they were transported to a military camp for "attitude adjustment" that included being forced to sign a contract that they'd give up their protests or else risk imprisonment and expulsion from their law school.
Apex's decision to pull The Hunger Games: Mockingjay - Part 1 might be the safest move politically, but it's guaranteed to hurt the chain financially. THR estimates the company will lose $30,500 in revenue for opting out of the title that is sure to be one of the biggest box office hits of 2014. And what movie--you might wonder--is Apex Group bringing into to replace The Hunger Games: Mockingjay - Part 1? Magic in the Moonlight, the critically panned rom-com from Woody Allen that includes an Englishman masquerading as Asian, but no message of political opposition.
Yet other theaters in Thailand will still be screening The Hunger Games: Mockingjay - Part 1. And it seems likely that Katniss's message of defiance in the face of threat and tyranny is catching fire. As arrested 21-year-old student Nachacha Kongudom told Yahoo:
The Hunger Games: Mockingjay - Part 1 opens Friday.
Your Daily Blend of Entertainment News
Staff writer at CinemaBlend.