Boardwalk Empire's Bobby Cannavale Joins The Annie Remake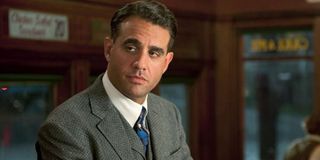 Bobby Cannavale, Broadway veteran and standout actor in pretty much anything he touches, is finally bringing some rarely seen musical talent to the big screen. Well, we hope so at least. Deadline reports that Cannavale has joined the cast of the upcoming Annie remake, but as a character who isn't part of the original musical. He'll play a "bulldog political adviser" to Jamie Foxx's character Benjamin Stacks, a revamped version of the Daddy Warbucks character who in the story is considering a run for Mayor of New York City. Cannavale's new character could potentially replace the butler Drake, or even President Franklin Roosevelt, who has a major scene in the original 1930s-set musical but obviously won't make a lot of sense as part of the modern take.
Either way, we're in. Cannavale has been on a roll in the last year alone, doing funny and vital work as part of the ensemble in Woody Allen's Blue Jasmine and putting in a terrifying turn as the gangster Gyp Rossetti on HBO's Boardwalk Empire-- we won't spoil what happens to his character, but he won't be back next year. You might recognize Cannavale from any number of other performances in a huge range of films and TV shows, from Tom McCarthy's warm-hearted comedy Win Win to John Tuturro's Romance & Cigarettes to, uh, Snakes on a Plane and Paul Blart: Mall Cop. Actually, let's focus on stuff like Louie and Nurse Jackie and Boardwalk and help Cannavale forget the Snakes on a Plane days.
Annie ought to be able to help him get there too, teaming up Cannavale with a laundry list of big names, from Foxx in the Daddy Warbucks part to Beasts of the Southern Wild Oscar nominee Quvenzhane Wallis as the titular orphan, plus Rose Byrne as trusted assistant Grace and Cameron Diaz, in what ought to be a scene-stealing turn to rival that back tattoo in The Counselor, playing the terrifying orphanage owner Miss Hannigan. If that's not enough star power for you on camera, remember that Will Smith and Jay-Z are still producing. Annie is set for a Christmas Day release next year. Revisit one of the big numbers from the 1982 version and let us know if you can figure out a good song for Cannavale to sing in the new version.
Staff Writer at CinemaBlend
Your Daily Blend of Entertainment News
Thank you for signing up to CinemaBlend. You will receive a verification email shortly.
There was a problem. Please refresh the page and try again.