Bob Hoskins Was X-Men Comic Writer's First Choice For Wolverine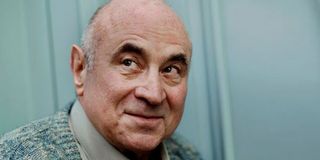 Yesterday saw the passing of a short man who cast a massive shadow in films and the lives of all those who saw his. Bob Hoskins passed away at the age of 71. As this sad news swept around the world, fans and colleagues poured out their grief and admiration for the celebrated character actor who had won hearts in films like Mona Lisa, Who Framed Roger Rabbit, Hook, Brazil and (yes!) even Super Mario Bros. But it turns out X-Men might have been among Hoskins' credits, if its makers had listened to comic book writer Chris Claremont.
The Wrap unearthed comments of the dream X-Men project of Chris Claremont, who has written a bevvy of X-Men story arcs, including that of X-Men: Days of Future Past. Long before Bryan Singer rounded up Hugh Jackman, Halle Berry and company for 2000's X-Men, Claremont was dreaming of his ideal X-Men movie, wherein Bob Hoskins would be his Wolverine.
This might sound kind of insane when you look at Hoskins and his short and husky physique versus the pure muscle madness that is Hugh Jackman's Wolverine. (Dare to compare below.)
But it's worth remembering that in the comics, Wolverine was long depicted as short, intense, and feral. With that as the casting breakdown, old school Hoskins seems the perfect fit.
Chris Claremont's vision of X-Men is one that would have been radically different from the one we know, decidedly '80s, and something we wish we could have seen. At a 2012 Columbia University panel, Claremont detailed that his perfect X-Men movie would have been produced by James Cameron, directed by Kathryn Bigelow and starring Bob Hoskins as Wolverine and Angela Bassett as Storm. He added with an understandable sigh:
Let's all take a second to imagine an alternate timeline where this movie came to fruition.
Your Daily Blend of Entertainment News
Staff writer at CinemaBlend.