A Book Of Mormon Movie Looks Likely, But We'll Have To Wait A Little While For It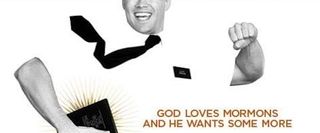 Broadway musicals have to be one of the most restrictive art mediums out there. For one, if a play is only being performed on Broadway that means that the only way to see it is by traveling to New York. Second, if a show is popular then people bumrush the box office and make it incredibly difficult to get tickets. Thirdly, if you do somehow manage to get tickets then you won't be able to clap after the performance because you'll have to sell one of your arms to afford your entrance.
These were all elements that made things challenging for fans of Trey Parker and Matt Stone. In March of 2011 the South Park creators launched their hit musical The Book of Mormon, and while the show is now touring for the longest time fans had to deal with the three major issues mentioned above (and many still have to deal with the last two). The truth is that most Parker and Stone fans will never be able to see the stage show live and could end up being cut off from it completely. The way to fix this problem, though, is actually quite simple: turn the play into a movie.
And obviously I'm not the first person to come up with this idea. There has been talk of a big screen Book of Mormon since September of last year, but Parker and Stone have put the breaks on the idea, wanting the play version to work as its own thing for the time being. But now that the musical has been around for over a year and a half, there are whisperings coming up again.
Variety has published an article about the potential project and within it they call an adaptation "a near certainty." The trade was present for a presentation by Viacom CEO Philippe Dauman, and while speaking he was asked what the chances of seeing a Book of Mormon movie are. "We love working with the two of them," Dauman said, his company the owner of Comedy Central, which airs South Park. "In fact, we have a small investment in the play given our association. South Park is a major property for us, so we always talk to them. We've done movies with them in the past, and we always look for opportunities to work with them." Viacom is the parent company of Paramount Pictures which released both South Park: Bigger Longer & Uncut and Team America: World Police.
Sadly, though, it looks like we still have a bit longer to wait before the film actually comes together. There is no current timeline established for the project and Variety points out that the production could be waiting until ticket sales for the show start to drop, as an in-production movie version would be useful to invigorate them again.
Having actually gotten to see The Book of Mormon on tour in Los Angeles, I can tell you that I really hope that they turn it into a movie. I have selfish reasons, of course, as I would love for it to be in a format I can watch over and over, but it would also just be great for it to be available in an accessible medium so that Parker and Stone's fans can see it.
Assistant Managing Editor
NJ native who calls LA home and lives in a Dreamatorium. A decade-plus CinemaBlend veteran who is endlessly enthusiastic about the career he's dreamt of since seventh grade.
Your Daily Blend of Entertainment News
Thank you for signing up to CinemaBlend. You will receive a verification email shortly.
There was a problem. Please refresh the page and try again.