Boston Marathon Bombing To Be Turned Into A Movie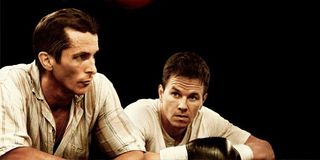 It hasn't even been four months since the Boston Marathon bombings rocked the nation on April 15th, but already a movie adaptation is in the works. But before you cry out, "Too soon," consider the pair behind the proposed docudrama. Paul Tamasy and Eric Johnson, co-writers of David O. Russell's Academy Award-winning biopic The Fighter, are heading up a drama based on a yet-to-be published book called Boston Strong. Deadline reports the pair picked up the rights to the book, which is currently being written by journalist and true crime author Casey Sherman, and Boston Herald reporter Dave Wedge.
With their book, Wedge and Sherman are hoping to capture the reaction of the people of Boston to the bombing both during the attack and the terrifying manhunt that followed - which eventually led to the killing of one suspect, Tamerlan Tsarnaev, and the capture of his younger brother/alleged accomplice Dzhokhar Tsarnaev. Because of the 24-hour news coverage of the events, not to mention the gruesome and haunting images of the bombing and eventual Boston shut down that flooded every form of social media, Americans across the U.S. have vivid impressions of these horrible days. Are we really interested or ready in a Boston Bombing movie? Especially when the fate of Dzhokhar is still undetermined? It seems these writers believe so.
Let's consider this one project at a time. First off, Boston Strong the book sounds like it will attempt to be some sort of transcribed oral history of the people of Boston, not just in the horrors of the time, but in their inspiring and heroic moments as well. I doubt it's a task either author takes lightly. For his part, Sherman has written a string of non-fiction books, from A Rose for Mary, a look into the murder of his aunt by the Boston Strangler, to The Finest Hours, which focused on a daring Coast Guard rescue following two oil tankers colliding. As a reporter, Wedge has covered such tragedies as the 2000 Wakefield massacre, and the September 11th attacks. So it seems to me that both men, who each call Massachusetts home, will be thoughtful and respectful in their book.
So why does a movie of such a book give me pause? Maybe it shouldn't, but I also remember the rush of several filmmakers to tackle the tricky topic of 9/11. At the time I cringed, and still haven't watched those films. The emotions from that time still felt too raw, and I had no interest in seeing stars live out the roles of real people who had died in such a senseless attack. However, just because they bought the rights to Boston Strong doesn't mean Johnson and Tamasy are looking to rush it into theaters. It's possible that they just felt driven to secure the property, as they have a history with Sherman. Not so long ago, Disney hired them to draft the screenplay for an adaptation of his book Finest Hours, which will be helmed by R.I.P.D director Robert Schwentke. So, maybe we should wait to see how that docudrama turns out before we get worked up about this in-development one.
This poll is no longer available.
Staff writer at CinemaBlend.
Your Daily Blend of Entertainment News
Thank you for signing up to CinemaBlend. You will receive a verification email shortly.
There was a problem. Please refresh the page and try again.