Brad Pitt's Fury Now Opening Much Earlier Than Expected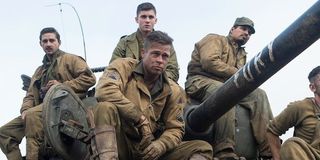 In August, the big "Oscar" picture is broad and unclear. Movies like Boyhood and The Grand Budapest Hotel have their supporters, but several films with Academy Award aspirations will make bold moves in the coming weeks to better position themselves in what's expected to be a tight grueling race for Best Picture. One such contender actually just made a move that might help it stand out, in the long run.
David Ayer's WWII tank thriller Fury just moved up a month on the calendar, coming out in theaters on October 17 instead of November 14, as previously planned. Variety, which reports the date change, notes that the new release date places Fury in closer proximity to the Toronto and Telluride film festivals – where producer Brad Pitt launched his eventual Best Picture winner 12 Years a Slave -- but goes on to note that neither fest has programmed Fury as of yet.
It's also possible that the Fury move has nothing to do with Oscar, and everything to do with avoiding competition. The sure-to-be-massive sequel Dumb and Dumber To staked out the Nov. 14 weekend, and the positive response to the film's trailer suggests a massive hit. Even if Fury survived by counterprogramming against Jim Carrey and Jeff Daniels, Ayer and his crew would have to contend with The Hunger Games: Mockingjay – Part 1 the following week. Theaters are going to get crowded.
By shifting back to Oct. 17, Fury will go against an animated movie (Book of Life), a sweeping romance from the Nicholas Sparks playbook (The Best of Me), a horror origin story (Dracula Untold) and Jake Gyllenhaal's intriguing Nightcrawler. Brad Pitt's star power could be enough to boost Fury, even on tat crowded weekend. The competition the following week isn't that stout, either, so the movie could just be to a better, less competitive weekend.
Either way, we're happy we'll get to see Fury earlier than expected. David Ayer earned a few more fans earlier this year with the hard-hitting police thriller Sabotage. And we've heard very good things about this ensemble war picture, starring Brad Pitt, Shia LaBeouf, Logan Lerman and Michael Pena as members of a tank patrol who must escape Nazi Germany at the tail end of the war. We haven't seen a war picture fight for Oscar's attentions in quite some time. Let's see if Brad Pitt and his crew have the right artillery when Fury opens a month earlier than expected.
Managing Director at CinemaBlend. ReelBlend cohost. A movie junkie who's Infatuated with comic-book films. Helped get the Snyder Cut released, then wrote a book about it.