Brad Pitt's Plan B Producing Andrew Dominik's Blonde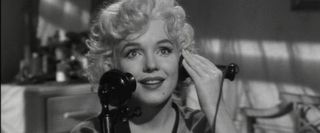 Marilyn Monroe has been dead for almost fifty years but the icon never strays too far from the spotlight. Last year's My Week With Marilyn, starring the incomparable Michelle Williams, was the first of two competing projects about the actress to make it to theaters, the other being Andrew Domink's long gestating adaptation of Joyce Carol Oates' Blonde. Now, however, the fate of the project may be changing, as Brad Pitt, who worked with Dominik on the director's last two films (The Assassination of Jesse James by the Coward Robert Ford and Killing Them Softly), intends to produce the very different look at the fascinating starlet through his Plan B banner.
Oates' novel is a work of historical fiction, which already marks the film as a departure from your typical biopic. The book - already made into a mini-series in 2001 starring Poppy Montgomery as Norma Jeane and Marylin - looks at the 'imagined inner life' of the blonde bombshell as well as toys with the idea of her death actually being an assassination. Like I said, it's a work of historical fiction and the kind of myth building that Dominik is surely familiar with after his last two projects. By the sounds of it there are certainly more similarities with Jesse James than one would think at first glance. Still, Blonde would mark a shift for the director who has spent his last three films exploring more violent genres including true-crime, western and gangster flicks.
The adaptation has been stuck in development for some time, with Dominik starting on the script about three years ago. But thanks to the connection with Pitt it looks like the picture might finally be made. In the Pitt and Dominik interview with the L.A. Times, the actor said it's unclear whether he would also be taking a role in the film or simply produce, but he did say, "We're going to get this one done." Pitt's interest obviously brings new financing possibilities, especially if he were to step in front of the camera, and Dominik said that shooting it in January or February of 2013 was not out of the question.
Now the real question: when Blonde was first set up, Naomi Watts was attached to play Marilyn, but that three or more years have passed and it's unclear at this point if that's still the case. Watts is a great actress and could certainly do the part justice (I can''t help but think of her aspiring young actress in Muholland Drive), but I don't envy any leading lady that has to follow in Michelle Williams' Academy Award nominated footsteps. Who would you like to see play Norma Jeane Baker/Marilyn Monroe?
Your Daily Blend of Entertainment News
Thank you for signing up to CinemaBlend. You will receive a verification email shortly.
There was a problem. Please refresh the page and try again.