Bradley Cooper Takes Smart Pills In The Limitless Trailer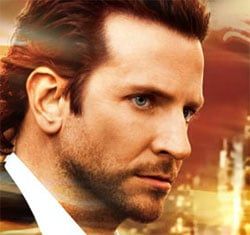 What if you could take a drug, which would make you the best possible version of yourself? That's the question asked by the first trailer for Limitless and Bradley Cooper takes it, only to discover that if he stops taking it, it'll kill him.
This is the same movie which last week brought us this viral video with Bradley Cooper as a prescription drug pitchman, but in the film he doesn't play the next Billy Mays. Instead he's a struggling writer with bad hygiene, no social skills, and a mostly empty bank account. Someone offers him a pill, he takes it, and everything about him changes.
Watch the first trailer for Limitless embedded below or in HD on Apple (opens in new tab).
Just in case you were wondering, I would totally take the pill. I like the idea behind the film and it's nice to see Bradley Cooper in something other than The Hangover which might be good. I do hope, however, that the generic, modern movie default soundtrack used in the trailer isn't the same one used in the film.
For more on Limitless including a look at the film's new poster, visit its page in our Blend Film Database.
Your Daily Blend of Entertainment News