Brand New Skyfall Trailer Premieres In IMAX At Comic Con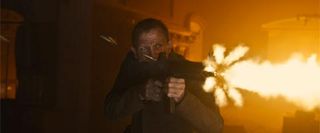 Earlier this evening I was invited by IMAX to attend a special event called IMAX Remix at the Ruben H. Fleet Science Center where famed DJ Glen Morrison spun music while various pieces of footage from IMAX films were shown on the domed screen (including scenes from movies like Mission: Impossible - Ghost Protocol, Harry Potter and the Order of the Phoenix and Star Trek). It was a very cool event - I still believe in the future of IMAX over 3D - but what really made the night was what they were saving for the end: a brand new trailer for Skyfall, the new James Bond film from director Sam Mendes.
The trailer begins with Bond (Daniel Craig), wielding his Walther PPK, slowly walking down a hallway towards a room where a man is sitting in a chair. When he finally approaches the man, he discovers that the man in the chair is dead. We see shots of M (Judi Dench) riding in a car and voice-over by Gareth Mallory (Ralph Fiennes), who seems to be speaking with her, says that three months ago she lost a drive that contained a list of every embedded secret agent employed by MI6. And that's when everything goes into overdrive as we get a glimpse at exactly what "Sam Mendes, Action Director" looks like. The trailer has flashes of the big train sequence that we've been hearing about for a while as well as a car chase with Bond in the driver's seat and Eve (Naomi Harris) in the passenger seat. The first montage ends with Bond and a mysterious villain fighting on top of the train with Eve holding a sniper rifle from a distance and getting ready to take a shot.
When then flash back to MI6 where M is being asked by Gareht where Bond is and she tells him that he is somewhere in the South China Sea. When asked why she doesn't have better intel on 007's location, she explains that when you've worked with Bond as long as she has you learn that "somewhere in the South China Sea" is as good intel as you're going to find. And then there's the trailer's big reveal: the first appearance of Q (Ben Whishaw). At first Bond is questionable about his new quartermaster, but Q then explains that he can do more with his laptop sitting in his pajamas than Bond can accomplish in his year. When Bond then asks why Q needs him, it's explained that sometimes a trigger needs to be pulled. For the most part the rest of the trailer is montage, with shots like Bond's Aston Martin driving through the empty desert, Bond passionately making out with a woman in a shower (it was hard to tell if it was Harris or Bérénice Marlohe) and more insanely huge action set pieces, including the subway crash that was featured in the first trailer, Silva silhouetted with a giant fire burning behind him, and even a scene involving some giant construction equipment. It's one seriously exciting trailer.
I walked out of the theater more excited for Skyfall than I was before, which is pretty damn impressive considering how excited I was prior to the trailer. The person introducing the trailer did inform us that the trailer will be available online and will be showing exclusively with IMAX screenings in the coming months, but didn't say precisely when it will be available (though we will be sure to post it the moment it does). In the meantime, to learn more about the new Bond film head over to our Blend Film Database.
Assistant Managing Editor
NJ native who calls LA home and lives in a Dreamatorium. A decade-plus CinemaBlend veteran who is endlessly enthusiastic about the career he's dreamt of since seventh grade.
Your Daily Blend of Entertainment News
Thank you for signing up to CinemaBlend. You will receive a verification email shortly.
There was a problem. Please refresh the page and try again.