Brett Ratner Could Move On With Last American Virgin Remake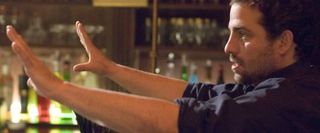 We've talked endlessly about Brett Ratner's disastrous series of public appearances that got him fired from his Oscars job, to the point that I was convinced there was nothing more to say. But it turns out there was actual movie news hidden in Ratner's appearance on The Howard Stern Show-- you know, the one where he talked about sleeping with a much younger Lindsay Lohan? In the middle of a recollection about actress Diane Franklin, who "I think I jerked off to at least two hundred times," Ratner said he's actually planning to remake the film that featured her, 1982's comedy The Last American Virgin.
Ratner was 12 years old in 1982, and in the same way that Transformers and G.I. Joes are making a comeback and preying on the nostalgia of that generation, it's apparently time for the raunch comedies of the era to come back. The Last American Virgin, if you couldn't guess, follows three high school friends who are trying to get laid. From what I can tell that's pretty much the entire plot-- they have sexual encounters with a cute transfer student (Franklin's character), three girls who want them to bring cocaine, a "sexy Latina woman" named Carmela, etc. The comedy is a remake of a 1982 Israeli movie called Eskimo Limon, so I guess it's a little too late to pull out the "remakes are bullshit" card, but if you cared about this movie as much as Brett Ratner apparently did in the 80s, you're probably entitled to get a little angry about it.
It's hard to know exactly what Ratner will do next in the wake of his Oscar disaster, and I imagine he might lay low a little while longer. But something small, raunchy and silly like The Last American Virgin actually sounds perfect for him, less of a chance to spend a big budget on some poorly executed action scenes, but use his frat-boy humor to appeal to that very audience. With American Reunion coming next spring and Harold & Kumar still out in theaters there's definitely still an audience for movies about dudes just trying to get some. It's kind of remarkable Ratner hasn't made one of these before.
Staff Writer at CinemaBlend
Your Daily Blend of Entertainment News
Thank you for signing up to CinemaBlend. You will receive a verification email shortly.
There was a problem. Please refresh the page and try again.