Bridesmaids, The Ides Of March And War Horse Among Producers Guild Nominees For Best Picture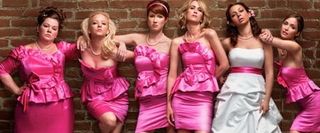 The Producers Guild of America, one of several industry organizations whose nominations for the Best Films of the year are thought to predict the Oscars, have announced their Best Picture picks this morning. The list includes a lot of familiar awards season favorites like The Artist, The Descendants and Hugo, but also a surprise or two, namely David Fincher's The Girl with the Dragon Tattoo, long thought to be too dark for awards attention. The full list of nominees is below.
The Artist
Bridesmaids
The Descendants
The Girl with the Dragon Tattoo
The Help
Hugo
The Ides of March
Midnight in Paris
Moneyball
War Horse
There was also a list of animated feature nominees, which consists of The Adventures of Tintin, Cars 2, Kung Fu Panda 2, Puss in Boots and Rango-- all major studio releases. The films nominated for Best Documentary were Beats, Rhymes & Life: The Travels of A Tribe Called Quest, Bill Cunningham New York, Project Nim, Senna and The Union.
The other big surprise on the Best Picture list has to be Bridesmaids, a raunchy summer comedy with a really remarkable staying power throughout awards season-- the Screen Actors Guild also nominated the film, and while the Oscars and their long-standing aversion to comedy may still not be game, the little female-driven comedy that could is still doing amazingly well. It's also kind of strange to see The Ides of March in the mix-- the George Clooney-directed drama seemed to fall off the map after its release in the early fall, but this nomination may give it a boost, as Academy voters are now sitting at home with the Best Picture nomination ballots in hand.
The Producers Guild Awards will be handed out on January 21 this year; the Academy Award nominations are announced just three days later on January 24. The next big guild to announce their nominees will be the Writers Guild, which announces Thursday, and then the Director's Guild, who announce their winners on Monday, January 9.
Staff Writer at CinemaBlend
Your Daily Blend of Entertainment News
Thank you for signing up to CinemaBlend. You will receive a verification email shortly.
There was a problem. Please refresh the page and try again.