Brit Marling And Boardwalk Empire's Jack Huston To Front Posthumous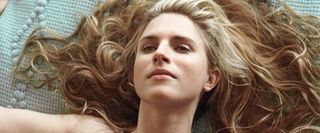 Indie ingénue Brit Marling dazzled critics last year as a performer and a screenwriter with not one but two Sundance-selected dramas, Zal Batmanglij's cult-centered thriller Sound of My Voice and the sci-fi fable Another Earth. Her hot streak continued at Sundance this year, where she co-starred opposite Richard Gere in Nicholas Jarecki's buzzed about financial thriller Arbitrage, and this winter she'll appear in Robert Redford's intriguing political mystery The Company You Keep. Having wrapped production on Batmanglij's The East, she is looking ahead to team up with another up and coming star in for complicated romance Posthumous.
Deadline reports Marling and Boardwalk Empire star Jack Huston will headline the feature written and directed by Lulu Wang. As the title suggests, Posthumous deals with a struggling artist who—spurred by the example of some unfortunate idols who came to fame after their deaths—decides to fake his own demise in order to draw notice to his work. Masquerading as his surviving brother, the artist (Huston) runs into a wrinkle when he meets and falls for Marling's vibrant, art-loving, and obviously gorgeous journalist. The film is expected to blend drama, romance and dark comedy.
Huston has a trio of pictures due to debut next year, including the biopic Kill Your Darlings where he plays Beatnik icon Jack Kerouac; the Jeremy Irons-fronted thriller Night Train to Lisbon; and indie crime drama Way Down South. Pairing these two scintillating rising stars together in a movie that aims to explore the glory, pains and passion in art, could prove absolutely explosive. Well done, Wang.
Your Daily Blend of Entertainment News
Staff writer at CinemaBlend.