Britney Spears Rides Steve O's Porta Potty In Jackass 3D Deleted Scene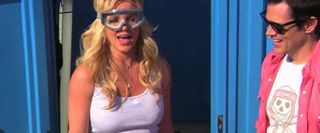 Johnny Knoxville showed up on Jimmy Kimmel this week, bringing with him what he claimed was a deleted scene from Jackass 3D featuring Britney Spears. It is not.
The video shows Britney riding in the bungee cord porta potty that Steve O straps himself into for the movie. One look at it though, and you'll know that the pop queen isn't actually doing this stunt and this probably wasn't ever filmed for Jackass. Instead they mix in footage from Steve O's stunt in the movie with shots of Britney sitting on a toilet behind a camera obscured by bluish water to make it look like she's riding around. In the end, Brit doesn't come out covered in poo, just water. She does however, come out and punch Johnny Knoxville in the nuts.
It's not real, but if you're a fan of Jackass, it's pretty fun. Here's the video.
Your Daily Blend of Entertainment News