Brittany Murphy Was Supposed To Be In Happy Feet 2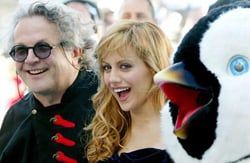 Brittany Murphy had talent that, unfortunately, she was never able to show. For me, 8 Mile more than proved that. But her acting potential wasn't the only thing left unmet; she also had a great talent for voice acting. Not only did she play Luanne from King of the Hill (splendidly, mind you), but she also lent her voice to the animated gem Happy Feet, a role that she'll now be unable to reprise.
According to Moviehole , Murphy was signed on to reprise her role as Gloria, the baby penguin, in Happy Feet 2, which is set to begin vocal recordings in the coming weeks. Robin Williams and Elijah Wood are also set to return to their roles. Unfortunately, George Miller will likely have to recast the role or scrap the character depending on her import.
It's always tough to see actors go so young, especially when we're left to wonder what could have been different. Unfortunately, because of flicks like Uptown Girls and Just Married, Brittany Murphy was pigeon-holed as a ditz and eventually mostly forgotten by Hollywood. But thankfully, we'll always have movies like Happy Feet to remember how great she really was.
Your Daily Blend of Entertainment News