CB Top 5: Modern Westerns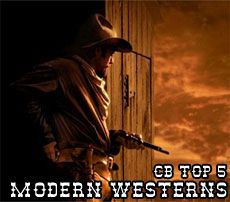 Westerns may no longer hold the premium place in American cinema they once did, but the gunslinger never goes out of style. In modern times, great westerns have become something of a rarity. With the heydays of Clint Eastwood and John Wayne long behind us, they've become more of a novelty than a living, breathing, theatrical genre. But that doesn't mean modern times haven't seen their share of gems.
With Russell Crowe and Christian Bale set to duke it out in the new western 3:10 to Yuma this weekend, it seemed like a good time to take a look at the best westerns of the modern era. So I strapped on my six shooters and held the Cinema Blend staff hostage at the local saloon. There was only one way for them to get out alive: by telling their favorite modern westerns. To make things simple I refused to count anything older than 1990, and here's the result: our latest Top 5.
TOP 5 MODERN WESTERNS
5. Serenity (2005)
TIM KENNARD: When you think of great westerns, I'm sure the words "sci-fi" don't immediately come to mind. But Joss Whedon changed that with Serenity. While keeping with some of the great staples of westerns such as a gunslinger, bank robbery, and even a bar fight, Serenity adds a spectacular technological flare. And it does so without being intrusive. The character driven story is so enthralling that you never get too caught up in the awe of the film's futuristic aspects. The turmoil between the alliance and the crew of Serenity is wonderfully presented in a way that's reminiscent of U.S. Marshalls tracking down an old west gang. From the witty dialogue and futuristic western landscapes to the underlying social commentaries on religion and prejudice, Serenity cements its place as one of the best modern westerns.
RAFE TELSCH: It's almost unfair to call Serenity a Western, since the movie didn't do as well carrying on those Western themes as its source material, the television show Firefly did. But, you do have a bank heist to kick things off and the story follows a captain and his crew who aim to cause trouble. That's more fun than most straightforward Westerns. Besides, I never did care too much for the traditional cowboys and horses movie. Give me a six-shooter and a starship and I'll get by.
4. Dances With Wolves (1990)
ED PERKIS: Ok, a lot of this is a little too "I'm sorry for being a white man," but for epic Western storytelling in the last, oh, three or four decades, there is very little that beats Kevin Costner's directorial debut. A movie that isn't really about conflict or the mistakes and injustice of whitey (although it contains both), but is more about using a recognizable character to show us Indian civilization at the end of its era. This isn't the Indians the Cartwrights ran into on "Bonanza", these were real men and women who lived in a society most of us had never seen in any depth. Costner also manipulated our emotions like a master. When Wind in His Hair asks Dunbar "can't you see I will always be your friend" or the soldiers shoot Dunbar's wolf companion, you have to be pretty hard hearted to stay unmoved.
MACK RAWDEN: Sure, Kevin Costner may have given the world a few epic flops and faux pas throughout his career, but Dances With Wolves cannot be considered one of those disasters. Winning an astounding seven Academy Awards and wowing nearly every critic who saw it, this somewhat unusual Western is the epitome of great filmmaking. The story may be a little slow, but the snail-like pacing actually serves as a beautiful contrast to the chaotic storm of the film's battle sequences. Lieutenant Dunbar's public persona shifts from deserter to hero and back again, and it is in that perceived dichotomy that the picture truly delves into themes of loss, acceptance, and cultural rebirth. It's also a nice ego boost for older white guys who feel like hooking up with Indian chicks. Ain't nothin' wrong with that.
3. Open Range (2003)
ED PERKIS: Unforgiven, as great as it was, almost made us forget why we spent 75 years loving Westerns in the first place. Then Kevin Costner talked Robert Duval into making something straight out of the 1940's. The good guys are good and noble and do the right thing just cuz it's right. The bad guys are trying to steal your land or your girl or both. And in the end, men with guns solve their problems by shooting the shit out of each other, as God intended; all in wide open prairies and vistas that will take your breath away. The pace, decried by some as too slow, is leisurely, like a good Western should be. They aren't trying to reinvent anything here, just serving up a heaping good plate of comfort food that goes down easy.
JOSH TYLER: Open Range is a lot of fun and yes, it contains one helluva gun-blaring, bad guy blasting gunfight; but what's always impressed me most is the film's careful, crystal clear recreation of life on a rapidly vanishing open range. Costner in particular cuts a striking 19th century figure, flashing guns and stoicism, while attempting to come to grips with misdeeds of the past. Character developing moments between Costner and co-star RobertDuvall, are unmistakably the highlights of Open Range, their interplay coming easy and slow, with a sometimes humorous and sometimes touching chemistry that would normally seem impossible to achieve with two such staunchly stoic characters. What's most surprising is that in among all the movie's seriousness and drama, Costner and Duvall also manage to make this a fairly funny film. They do so, without taking away from the intensity of the subject matter. When the movie finally does culminate in one big, save the town gunfight, something which could have been old hat seems completely fresh and invigorating under Costner's direction. It's easily the best gunfight seen on screen since the days of John Wayne, and even if the pace of the rest of the film is simply too slow for you to handle, it's worth watching just to see Robert Duvall blast the bad guys through a wall.
2. Unforgiven (1992)
JD MCNAMARA: Unforgiven is a great film long before William Munny decides to take his first sip of whiskey in ten years, but once he does it kick starts an intense and grisly finale that cements the movie's place as one of the greatest modern westerns we will ever see. The success of Eastwood's (who better to turn to?) film rests largely on the brooding suspense built around Munny, as we wonder if he is the cold blooded killer of legend or just a tired old pig farmer whose murderous days are in the past. This moral dilemma hovers throughout the movie, providing it with a depth and scope that goes beyond just good and evil or right and wrong. Unforgiven has everything: all kinds of heart, hoards of grit and action, Morgan Freeman (who gets points for just being there), and Gene Hackman and Clint Eastwood playing two of the meanest sons of bitches to ever don spurs.
JARAD WILK: This is what the western genre is all about. Clint Eastwood stars as William Munny, a retired killer who reformed to the life of a father and farmer for his late wife. Knowing the farmer's life was never for him, and since growing crops is growing more difficult as time goes on, he decides to take one last job and return to the only thing he truly knew how to be: a cold, heartless bad ass killer who sips whiskey for breakfast. There is no other character in the modern day western that crosses the line between man and myth, hero and villain like Eastwood's Munny. The story is told to perfection with the brilliant casting of Morgan Freeman, Gene Hackman and the late Richard Harris, to transport us back to a time where the streets were dusty and a good old-fashioned duel was the way to settle debts. This film is a classic.
RAFE TELSCH: Unforgiven is probably one of the most unexpected Westerns you'll find. Focused more on the consequences of action than action itself, the story is a soulful reminder of the price both sides pay in a gunfight. Clint Eastwood is at his absolute best here, and while the part may not actually be his spaghetti western character, it's not a stretch to think that the man with no name might have wound up right where this character is by the time his career ended… assuming he lived.
1. Tombstone (1993)
ALEXANDRA: Tombstone may have made its mark on cinema with unforgettable action sequences, snappy dialogue, and fantastic characters from the heroes all the way down to the sniveling Ike, but my "huckleberry" will always be Val Kilmer's Doc Holliday. Delivering some of the most quotable lines of all time ("I've got two guns, one for the each of ya"), Doc not only has that badass recklessness so compelling to movie watchers, but he ultimately epitomizes true friendship, adding a surprisingly deeper level to the film. Combine Doc with a mediocre flick and you strike cinema gold, mix him into a movie like Tombstone and you wind up with a film that transcends the Western genre and easily earns the number one spot on our list.
DANIEL: Regardless of genre, Tombstone is unquestionably the greatest film ever to be made. Opining about how great it is-from the intense, surprisingly accurate action scenes to the Jesus-like transcendence of Val Kilmer as Doc Holliday-would cheapen its greatness. Mandatory viewing of this film by students at least five times a week is the only way to ensure the manliness of future generations. Since talk is so cheap, I shall complete my segment by simply rattling off a few of the finer quotations- WYATT: Go ahead. Skin that smoke-wagon and see what happens. | TEXAS JACK: Hell, I got a lot of friends. DOC: I don't. | DOC: Yes, you are a good woman. Then again, you may just be the anti-christ. | WYATT: Tell all the other curs the law's comin'! You tell 'em I'M coming... and hell's coming with me! | And oh, yes... RINGO: Doesn't anyone out here have the courage to play for blood? DOC: I'm your Huckleberry.
SCOTT: "So run, you cur... RUN! Tell all the other curs the law's comin'!" thunders Wyatt Earp as he sets a whimpering outlaw off to warn the rest of the gang. "You tell 'em I'm coming... and hell's coming with me, you hear? Hell's comin' with me!" It's one of a hundred striking lines that resonate through the air and stick with you long after you're done watching the movie. As modern westerns go there's Tombstone and then there's everything else. Sure, there have been many westerns made in the last decade or two; some of them were even pretty good. But to put them in the same league with Tombstone is like comparing ground chuck to a fine porter house steak. Val Kilmer's turn as Doc Holliday is the stuff of Hollywood legend. Sam Elliott, whose presence is practically a prerequisite for a modern day western, is there with his best moustache and steely-eyed glare. Dazzling shoot-outs, irresistibly quotable dialogue, heck, the movie even has Charlton Heston standing proud with rifle in hand…you can practically feel the dust, gun smoke and testosterone radiating from the disc as you put it into the DVD player. It's everything you could want in a western no matter what decade you're in.
Nominated but didn't make the cut: Brokeback Mountain, Dead Man, Maverick, The Quick and the Dead, Back to the Future Part III, The Three Burials of Melquiades Estrada, Young Guns II, Ravenous, Tears of the Black Tiger, The Ballad of Little Jo, The Proposition, Vampires, The Wild Wild West, Wyatt Earp
Swipe to scroll horizontally
This poll is no longer available.
Your Daily Blend of Entertainment News