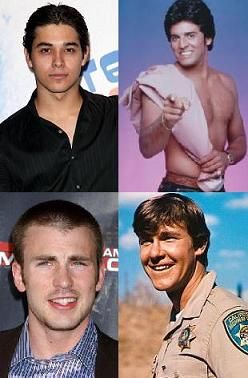 It wasn't so long ago when we talked about the current status of the a film version of CHiPS, and back then we knew that Wilmer Valderrama had been taken on board to fill the biker boots of Erik Estrada's "Ponch". Word now comes through The Latino Review that filmakers may have settled on an actor to play Jon Baker, Ponch's partner in patrol. LR offer this nugget from an "anonymous New York friend":
"Hey Guys, I was in New York a few weeks ago, specifically, the Marriot New York Marquis. I came across a little celebration that was going on there in the form of Wilmer Valderrama and Chris Evans popping open some bubbly and announcing to the crowd that Chris Evans has signed on to play Jon Baker, Ponch's partner. Wilmer himself actually said "Meet Ponch's new partner." The guys were pretty fired up about the deal. I also heard it mentioned that filming should start in late November early Decemberish, some time around when Chris wraps Fantastic Four."
And so the Chris Evans steamboat continues rolling. I still haven't settled on an opinion with this guy. He doesn't grab me in any way or command the screen as a natural talent but he certainly does seem to have something to offer, even if not in leading man territory. And in terms of the matter at hand, this casting makes perfect sense.
When asked a while back about exactly what this movie's approach will be, Valderrama took the oppurtunity to distance the project from any other recent tounge-in-cheek TV to movie adaptations:
"What we're doing is, we're having fun with it, but we're not making fun of 'CHiPs.' A lot of the remakes that have happened in the last couple of years have failed because they make fun of their franchise. You can't be making fun of something that at some point people cared so much about ... For the world, 'CHiPs' is a very serious drama. You can't disrespect that. What we want is for the comedy to be very organic and just be character driven -- not to have funny costumes or funny gags."
Personally, when he puts it that way, I can definitley see these two guys pulling this off with class and style. Most people will agree that there's gonna be no shortage of TV to movie spoofs and this should satisfy those interested in a little more grit for their green.
Before I sign off on this though, I do wanna throw a little spanner in the works and point you to this nice pick-up by Filmstalker. They spotted that the *ahem*... (in best "trailer man" voice impression) "Greatest Jack Black Site In The World" lists an as-yet-untitled buddy-biker-cop movie as on Mr Black's to do list starring none other than himself and Will Ferrell. If this is true, could he have been jostling for the rights? Or is this just poking fun with what we all know is a parody? Either way, I'd buy that for a dollar.
Your Daily Blend of Entertainment News