Captain America Star Hayley Atwell Signs On For I, Anna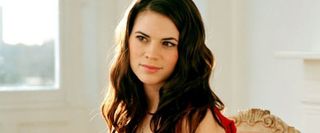 For the moment Hayley Atwell is just another up-and-coming British actress, pretty and talented but not famous for anyone who didn't catch her performances in The Duchess, Brideshead Revisited or Cassandra's Dream. That will likely all change this summer, when Atwell stars opposite Chris Evans in Captain America: The First Avenger, playing love interest Peggy Carter. Whether or not that bid at international stardom pans out, though, Atwell will be moving on to another homegrown production afterwards; THR reports that she'll be starring in the London-set suspense thriller I, Anna, opposite her The Duchess co-star Charlotte Rampling.
Rampling will be playing the titular Anna, a woman whose life is "turned upside down after a date gone wrong," and Atwell will play her daughter. The cast also includes another English acting treasure, Happy-Go-Lucky's Eddie Marsan, along with Jodhi May, Bill Milner and Honor Blackman. Barnaby Southcombe is making his directorial debut on the project, and also wrote the script. It sounds like the kind of small-scale English production that could easily never make it overseas to the U.S., but if Atwell becomes as giant a star as we might expect after Captain America, our odds of getting a look at it will increase dramatically. Weirdly, this may be one of those instances where supporting a giant movie-- Captain America hits theaters July 22-- will help you see a much smaller one down the line.
Your Daily Blend of Entertainment News
Staff Writer at CinemaBlend