Captain Kirk's Dad Is Branagh's Thor!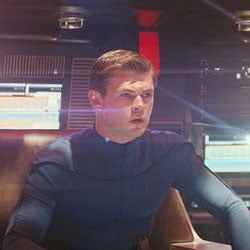 If you've seen Star Trek then you know the best scene in the film has nothing to do with James T. Kirk, Mr. Spock, Uhura or any of the other familiar Trek characters. For my money the film's opening five minutes, in which George Kirk flies a suicide mission to save his wife and son, is the best five minutes I've spent in a movie theater this year.
At the center of that fantastic, all too brief intro, is Chris Hemsworth as Jim Kirk's father George and I'm not the only one he's impressed. We told you earlier this month that Hemsworth was auditioning for the lead role in Kenneth Banagh's upcoming superhero flick Thor. He nailed it. Variety says he's been chosen for the part.
Chris Hemsworth is Marvel's god of thunder. The character is quite literally, a Norse god banished to Earth as punishment for his love of humans. As long as he's here and he has all these god-powers, he decides to do some crime fighting. Hemsworth will play the character not only in Branagh's Thor solo movie, but also in the upcoming Marvel team-up movie, Avengers, which they're planning for 2012. First though, he'll do the Thor solo pic, which they're planning to release on May 20, 2011.
Your Daily Blend of Entertainment News
Thank you for signing up to CinemaBlend. You will receive a verification email shortly.
There was a problem. Please refresh the page and try again.