Carey Mulligan Now The Leading Contender To Play Great Gatsby's Daisy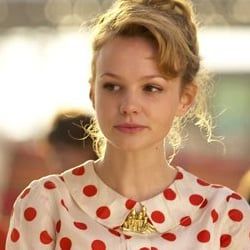 If you're already bored of speculating over the list of rumored actresses for roles in The Dark Knight Rises, you can always return to thinking about who will play Daisy in Baz Luhrmann's The Great Gatsby adaptation. At some point in the last few weeks nearly every major Hollywood figure has been rumored for the part, with Rebecca Hall and Scarlett Johansson leading the pack. But now that both are considering roles elsewhere, as an IRA terrorist and Matt Damon's love interest, respectively-- another name has moved up to the top of the list.
And--scandal!-- it might not be an American playing Daisy, that symbol for the unreachable, idealized American dream. According to Vulture Carey Mulligan has made her way to the top of the wishlist, presumably based solely on the fact that she's adorable and immensely talented. Apparently Luhrmann really wanted Johansson for it, but once she committed to We Bought A Zoo she was out of the running. Gatsby starts filming next summer, with Leonardo DiCaprio still set to star as Gatsby, and the role of Nick Carraway apparently still up for grabs. Now that Mulligan and Shia LaBeouf seem to have broken up, we can at least safely assume he won't be the one getting the role-- thank God for small favors.
Your Daily Blend of Entertainment News
Staff Writer at CinemaBlend