Carla Gugino In Porn Again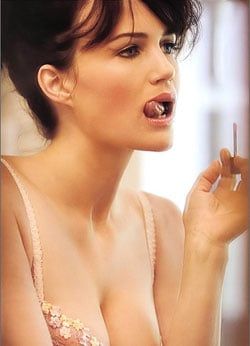 This is the first I've heard of it, but apparently fanboy fantasy Carla Gugino has been off somewhere filming a movie in which she plays a porn star. It's called Women in Trouble and it's one of those multiple stories flicks in the mold of Crash. It tells the stories of ten different women: a porn star, a flight attendant, a bartender, and so on.
Women in Trouble doesn't even have a release date yet, but that hasn't stopped the movie's writer/director Sebastian Gutierrez from signing Gugino up for a sequel. Variety says Gugino has been signed to star in a follow-up called Elektra Luxx, named after Gugino's character in the first film and suggesting perhaps that Gutierrez will focus the this one more on Gugino's porn character. That squeaking sound was my attempt to muffle a spontaneous "woohoo". In Elektra Luxx she has her life turned upside down when she discovers she's pregnant. That umpfing sound you just heard was my attempt to muffle a spontaneous moan of disappointment.
Many of the others from the original cast are expected to reprise their roles in the second film alongside Gugino. Elizabeth Berkley was the only other "name" involved in Women in Trouble so feel free to pencil her in. They're also adding Timothy Olyphant, Alicia Silverstone, and Justin Kirk to the cast.
Elektra Luxx is only the second in a planned trilogy of movies about these various fem characters. The third one is called Women in Ecstasy, and though that title sounds like a lot of fun, judging from the first two it'll probably be about the stripper character getting herpes or something. Indie films. Can't live with em, can't live without em.
Your Daily Blend of Entertainment News