Case 39 Trailer: Bradley Cooper Has Bees In His Brain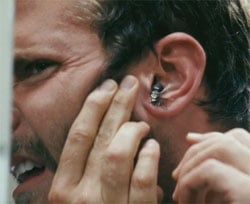 The first trailer for Case 39 makes a pretty convincing argument in favor of child abuse. The movie stars Renee Zellweger as a social worker who, with a little help from Ian McShane, stops two parents from murdering their daughter. She takes in the kid and discovers the girls had good reason for trying to send their daughter to hell. Her mistake leads to Bradley Cooper covered in bees. That's right, bees!
Social workers beware. Below is the first trailer for Case 39 or watch it in HD on Apple.
Case 39 has actually been finished and waiting for someone to release it since way back in 2006. It was originally scheduled to be released in August of 2008. Then it was pushed back to April 2009. But it wasn't until April of 2009 that the movie even got a trailer (which has since been removed from the internet) and that release too was called off. It was already released in the UK this past march, and now it's being released in America on October 1st of this year.
All the delays probably aren't good news. The handful of British critics who saw it and reviewed it, generally hated it. The movie currently has a 21% rating on Rotten Tomatoes.
For more on Case 39 visit our preview page.
Your Daily Blend of Entertainment News
Thank you for signing up to CinemaBlend. You will receive a verification email shortly.
There was a problem. Please refresh the page and try again.