Casper The Friendly Ghost Coming Back To The Movies?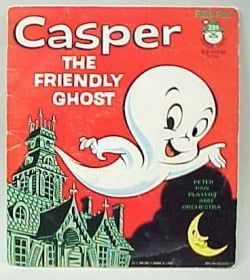 When I was back home over Christmas my sister managed to catch Casper on cable, sucking me back into a time warp that led directly to 1995, when I couldn't imagine anything better than living in a musty old house, wearing a lot of flannel with my dad, and being romanced by my ghost pal who magically turned into Devon Sawa in front of all of my pals. Obviously Casper hasn't aged all that well, being both a goofy children's comedy and an early use of CGI, so I doubt the 11-year-olds of today would get the same thrill out of it that I did. Lucky for those kids, though, Casper will be making another trip to the big screen-- though I'm kinda doubtful Devon Sawa will be making a comeback too.
According to Australia's Hollywood Insider blog, the owners of Casper, Classic Media, are in talks with Universal and Amblin to work on a live-action Casper movie, not all that unlike the 1995 movie, actually. Casper has been doing pretty well for himself in direct-to-video sequels and even in a comic released last year, but Classic Media has obviously noticed the trend of studios reviving old characters and wants in on some of that big feature money. Basically, they saw Yogi Bear and they want a piece of that pie.
What's Playing doesn't have an absolutely sterling record for scoops, so don't necessarily take this as fact just yet, but come on, it makes perfect sense. Characters like Casper are capable of coming back again and again no matter how much you might think they've faded into the past; even though Yogi Bear has only made $43 million domestically so far, it'll have a long life on DVD for bored kids and parents. Now we just have to wish for the Casper to be a little bit better than Yogi.
Your Daily Blend of Entertainment News
Staff Writer at CinemaBlend