Catch A Sneak Peek Screening Of Super 8 In 300 Theaters This Thursday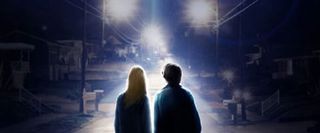 Super 8, the new 80s-set adventure from J.J. Abrams, isn't your typical kind of summer blockbuster, and won't be having a typical kind of summer blockbuster release to go with it. While a lot of giant movies have midnight screenings on Thursday to hype up their opening weekend, Super 8 will be taking it a few steps further with 300 sneak preview screenings on Thursday, June 9, the day before the film's opening this Friday. Twitter is teaming up with Paramount to host the screenings, using the hashtag you might have seen-- #Super8Secret-- to promote it. They've also set up this page with the full set of details to figure out where you can see it.
It's clear that Paramount is pulling out all the stops to promote a movie that doesn't have the same kind of built-in audience as, say, Transformers: Dark of the Moon. A collection of strong reviews, including our own, can only get you so far, especially in the summer season when moviegoers are primed to expect movies that are loud and preferably sequels to something they already like. The sneak previews will likely be a great way to rally the primed geek-friendly audience that already is dying to love this movie, but the interesting test will be seeing who else decides to show up. If you're convinced by the reviews and the early Amblin feel of the previews, though, buy your sneak peek ticket and support what will likely be one of the most original and heartfelt blockbusters of the summer.
Your Daily Blend of Entertainment News
Staff Writer at CinemaBlend