Cate Blanchett Gives An Oscar-Worthy Performance In The Breathtaking Carol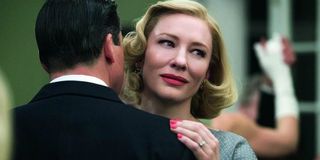 It's hard to pull your eyes away from Cate Blanchett, who returns to the silver screen in Todd Haynes' dazzling Carol. The film screened at this year's New York Film Festival and tells of two women who fall in love at a time when doing so was detrimental. As the awards season continues to take shape, Blanchett's performance is deserving of all the recognition that's likely coming for her her and the film.
The subdued color palette paints the 1950s backdrop, and Blanchett sashays through its texture in luscious reds, greens, and pinks. Therese (Rooney Mara), a department store worker, is instantly enthralled by her presence when she walks in to her store looking for a present for her daughter. The significantly younger Therese realizes more and more that she does not prefer the company of her male suitor (Jake Lacy), while Carol fights for her child in a divorce. But what began with a look from afar progresses into a relationship as each finds it painful to part from the other.
Carol is adapted from the Patricia Highsmith novel The Price of Salt, which is very reflective of the film. Highsmith first published the book in 1952 under the pseudonym Claire Morgan in light of the lesbian content and subsequent happy ending, which defied the societal outlook on homosexuality. It was later republished and stands as a triumph of LGBT and feminist fiction. Carol, the film — from its grainy texture to the music to the fashions to its elegance — seems as if it were plucked directly out of the time period, but it's thanks to the modern acceptance of the LGBT community that a film like this is able to exist.
In a time when more people than ever are demanding more fully formed roles for women in Hollywood, Carol also lambasts the rampant misogyny of the age. The character doesn't need her husband, Harge, incredibly played by Kyle Chandler. He is still in love with his wife, but more than that he feels entitled to her. He constantly remarks that she's "the most beautiful woman in the room" and how they shouldn't be in this situation. Carol isn't afraid to remind him that he's not the center of her world; their confrontations reach a climax when he drunkenly demands she spend her Christmas with him and their daughter.
While Mara and Chandler deliver incredible performances, Blanchett is a vision to behold. It all comes back to that gaze, which is eloquently portrayed through the repeated use of mirrors and clouded glass; often times Therese and the camera view the object of affection through rain-stained car windows or in the blurred reflections of storefront displays. She doesn't hold back, fearlessly tackling the intimate moments with Mara when their gaze is but a nose-length long. However, Blanchett truly comes alive in the subtle changes in expression. As we gaze into her eyes, she stares just as intently into Mara's from across a table. She slowly, gracefully, expertly raises the corners of her lips into a soft smile, her eyes begin to pool with tears, and it becomes clear that this film about first love, about forbidden love, transcends sexuality and womanhood.
In terms of the Oscars, Blanchett is catnip for Academy voters. While Carol itself touts the theme of LGBT oppression, it's also a period film, both of which are a part of the Oscars' long history of standouts. It's also a film which impresses at every level, including cinematography, costumes, directing, supporting talent, and writing. Carol seems like a potential contender for Best Picture and Supporting Actress, but it all comes back to Blanchett.
Carol will be released in theaters on November 20.
Your Daily Blend of Entertainment News