Cate Blanchett To Lead David Mamet's JFK Assassination Thriller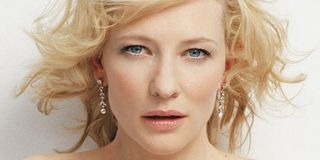 The assassination of U.S. president John F. Kennedy was a horrific event that forever scarred the American psyche. Perhaps this is why this brutal and public murder finds its way into film and television again and again, from the gritty superhero drama Watchmen, to the Clint Eastwood action movie In the Line of Fire, and Oliver Stone's Academy Award-winning historical drama JFK. Even Tom Hanks is developing a drama about this defining moment for our nation. But no one has approached this topic as David Mamet plans to.
Variety reports Mamet has penned and will direct a thriller that offers a new and likely mind-boggling possibility for the hows and maybe whys of Kennedy's murder. Far from historical drama, this feature is being described as a Hitchcockian nailbiter. And the casting of Academy Award-winner Cate Blanchett in the lead role suggests this screenplay is something sensational. Of course, it's Mamet. We expect nothing less.
In Blackbird, Blanchett will star as Janet, a woman who travels to Los Angeles to attend the funeral of her grandfather. But while mourning the loss of her beloved granddad, Janet uncovers that his past as a Hollywood visual effects artist and involvement with US. special ops agencies dovetailed into some seriously shady dealings. Unearthing her grandfather's secrets—which must link to the Kennedy assassination—forces Janet to take a hard look at the man who dedicated his life to creating illusions so captivating, they are taken as reality.
Blackbird will shoot in Australia, though its start date has not yet been announced. In the meantime, look for Blanchett in The Hobbit: The Desolation of Smaug, Woody Allen's Blue Jasmine, and Terrence Malick's Knight of Cups, all expected to come out this year.
Staff writer at CinemaBlend.
Your Daily Blend of Entertainment News
Thank you for signing up to CinemaBlend. You will receive a verification email shortly.
There was a problem. Please refresh the page and try again.