Channing Tatum Has Selected Aspiring Filmmakers To Hand Out This Year's Oscar Statues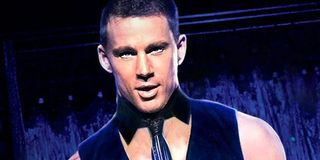 Amid all the glamorous stars and tear-jerking speeches, it's easy to overlook one of the Academy Awards most crucial crew positions, that of Oscar deliverer. For decades, Oscar producers plucked out beautiful models to carry the gold statues on stage, where they'd be handed off to tear-rattled winner. But all that changed in 2013 when co-producers Neil Meron and Craig Zadan opted for a new tradition better fitting for the night's events. Last year marked the first time that aspiring filmmakers carried this honor, and its being continued this year with some help from Channing Tatum.
Yahoo reports that Tatum was tasked with picking this year's winners. Like last year, contestants had to make a short film essay pitching why they should be a part of "Team Oscar." After watching their videos, the Magic Mike star selected six film students who will be flown to Los Angeles to be play a part in the Oscar ceremonies on March 2nd. Tatum said in a statement:
The winners are three young men and women from different backgrounds and cultures, all dedicated to film and presumably pumped about Oscar night.
Here they are, presented with the videos that made them winners:
New York native and University of Michigan student, Zaineb Abdul-Nabi, describes herself as a "gonzo cinematographer" who plans on being "a part of growing intersection of film and digital cinematography." Fittingly, she shot her submission on Super 8 and digital stocks.
Bryson Kemp of Muhlenberg College comes from North East, Maryland, and dreams of being the next great American movie composer. In fact, his entry is titled "John Williams is my Idol."
Representing for post-production is Laguna Niguel, California, native Mackenna Millet from Pepperdine University. Below she shares some charming graphics to illustrate her love of visual effects, animation and editing.
Chapman University student Nathan Flanagan-Frankl hails from Northbrook, Illinois, but finds the stereotypes Hollywood has assigned to Asians like him confining. Or as he puts it: "As a filmmaker, I'd like to create stories that diversify the role of the hero. I want to see Asians score the winning touchdown, get the girl, and lead the story!"
South Brunswick, New Jersey's Jeanpaul Isaacs is a Rutgers University student who has already gained attention for his film work, appearing in film festivals and on television in promotion of them. "I am the future of film, " he promises below.
Lastly, Tayo Amos was born in Mountain View, California, and currently attends Stanford University. She is as an aspiring producer/director/editor who dreams of adding her voice to the landscape of modern cinema.
Look for each of these winners and aspiring movie-makers on Oscar night.
Staff writer at CinemaBlend.