Channing Tatum's New Movie Sounds Like A Tear-Jerker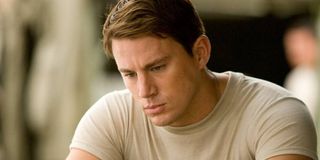 Channing Tatum's new film is set to be an emotional rollercoaster. The 21 Jump Street actor has signed on the dotted line to both produce and star in the adaptation of Two Kisses For Maddy over at Sony's TriStar, and the hunt is now on to try and find the perfect director for the project.
Variety reports that Dana Stevens has been hired to write the drama, which is based on Matthew Logelin's book Two Kisses For Maddy: A Memoir Of Loss And Love. Logelin's weighty and emotional story revolves around his marriage to Liz Logelin and her death just 27 hours after she gave birth to their first child. The book, which originally started as a blog, also explores his efforts trying to raise his daughter, Madeline Elizabeth Logelin, as a single parent. At the height of its popularity back in 2008 the blog received over 40,000 hits a day.
Stevens' biggest hits to date have been 1998's City Of Angels and 2013's Safe Haven, though there will now be quite a weight of expectation on her shoulders because of the book's endearing popularity. This eventually saw Two Kisses For Maddy: A Memoir Of Loss And Love hit the New York Times bestseller list when it was published back in 2011.
This isn't the first time that efforts have been made to adapt the book. Back in 2012, Marta Kaufman and Denise DiNovi began proceedings to make it into a Lifetime movie. However, despite optioning the book, this project never actually materialised. But with Channing Tatum on-board, interest in Two Kisses For Maddy is bound to be fervent, especially since he's previously proven that he is more than able to mix it up in the weighty melodramatic genre with movies like Dear John. Even if the below GIF does prove that he can stray into over-the-top acting territory.
Matthew Logelin's tale is one of great sorrow, but it's still punctuated with hope. After meeting Elizabeth Goodman as a high school senior, the two maintained a long distance relationship during college before then moving to California in 2002. By 2005 they were married, and just two years later they were expecting their first child. But Elizabeth's pregnancy was riddled with issues.
After being admitted to hospital for bed-rest for three weeks, Madeline was born seven weeks prematurely, and just a day later Elizabeth died suddenly from a pulmonary embolism. To help him with his grief, Logelin took to blogging to update his friends on his journey as a single father. More and more readers took an interest in Logelin's plight, and he eventually appeared on both Rachel Ray and Oprah Winfrey's shows. Tatum's presence should mean that production on Two Kisses For Maddy will begin towards the end of the year, and we can expect it to hit cinemas at the end of 2016.
Your Daily Blend of Entertainment News