Charlie Sheen, Lindsay Lohan And Terry Crews Confirmed For Scary Movie 5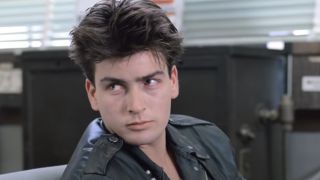 (Image credit: Paramount)
It's difficult to recall actors who have had such protracted public meltdowns as Charlie Sheen and Lindsay Lohan. Well, okay there's also Sheen's Machete Kills' co-star Mel Gibson. But it's safe to say that both Sheen and Lohan have hit a level of overexposure that's made many a movie fan think, "Oh, enough already!" Well, this is exactly what the makers of Scary Movie 5 are banking on.
THR reports Dimension Films has secured Sheen and Lohan to play "the world's hottest new couple," which are essentially promised to be killed off in the fifth installment's Scream-referencing opening. This cameo killing device has been used in each of the Scary Movie entries so far; former victims include Carmen Electra, Natasha Lyonne, Jenny McCarthy, Pamela Anderson, Shaquille O'Neal, and Dr. Phil.
Undercover Brother director Malcolm D. Lee will be helming Scary Movie 5, which appears to parody Black Swan as it centers on three dancers, one veteran and two newcomers that are close friends, who are competing for the attention of an oversexed-yet-snooty director to win the lead in a new production.
Anna Farris won't be returning to the Scary Movie series, and so stepping in to play the sure-to-pratfall blonde besieged by horror is former Disney kid Ashley Tisdale of High School Musical. Former Mad TV star Erica Ash will play her bestie/rival, and Expendables 2 co-star Terry Crews has recently signed on to the production, though no mention is made as to his role. Could he perhaps be playing the spoofed version of Vincent Cassel's lusty dance instructor? If so, that casting could be enough to urge me to endure another entry into this tired franchise.
Scary Movie 5 will go into production in September and is expected to hit theaters on April 19th, 2013.
Your Daily Blend of Entertainment News
Staff writer at CinemaBlend.