Charlize Theron Will Go To Dark Places In Gone Girl Novelist's Adaptation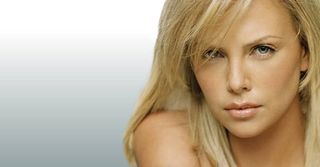 Gillian Flynn's novel Gone Girl took the world by storm last summer, turning otherwise functional adults into page-turning fiends, putting their entire lives on hold until they got through the end of the twisty, dark, amazingly fun book. (My apologies to my Cinema Blend colleagues for being functionally worthless during that time). A film adaptation of Gone Girl is in the works, of course, with Reese Wittherspoon producing and David Fincher possibly interested in directing. But Flynn has two other novels also in development, and one of them just made a big step toward becoming reality.
We heard a few days ago that Charlize Theron was up to replace Amy Adams in Dark Places, an adaptation of Flynn's novel about a woman forced to reveal the truth about her traumatic childhood. We don't know why Adams bailed, but now Theron has been confirmed for the role, in addition to signing on as a producer. Gilles Paquet-Brenner, who made the French Holocaust drama Sarah's Key, is on board to direct, and the film is being sold-- like many other projects you're hearing about this week-- at the European Film Market in Berlin.
Theron's scenery-chewing role in Snow White and the Huntsman and villainous turn in Prometheus confirmed a dark but hugely enjoyable shift in her career in recent years, and though she's the heroine of Dark Places, it seems clear she'll be up to some nefarious stuff as well. It might've been more interesting to see Amy Adams shake up her good-girl image with this part, but Theron is about as good a next choice as you could hope for. No word on when the film will go into production-- Theron is also considering parts in Paul Thomas Anderson's Inherent Vice and Seth MacFarlane's A Million Ways To Die In The West-- but we'll keep you posted.
Staff Writer at CinemaBlend
Your Daily Blend of Entertainment News
Thank you for signing up to CinemaBlend. You will receive a verification email shortly.
There was a problem. Please refresh the page and try again.