Charlize Theron's Sympathy For Lady Vengeance Remake Scores The Departed's Writer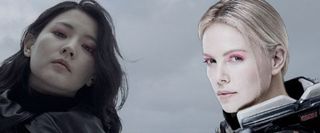 Sympathy For Mr. Vengeance. Oldboy. Sympathy For Lady Vengeance. Each entry in Chan-wook Park's riveting vengeance trilogy has been rumored to have an American remake in the works over the years. Back in 2010, Warner Bros. bought the rights to the first film in the trilogy, but no news on a Sympathy For Mr. Vengeance remake has surfaced since. Of course, Spike Lee is in production on his version of Oldboy with a cast that includes Josh Brolin, Elizabeth Olsen and Sharlto Copley. But today's news in Park remakes centers on the Sympathy For Lady Vengeance remake that first made headlines in 2008, when Charlize Theron fresh from her dramatic turn in the harrowing Paul Haggis drama In the Valley of Elah revealed her plans to produce and star.
Theron's Denver & Delilah Films has announced that her Lady Vengeance is moving forward with Academy Award-winning screenwriter William Monahan on board to adapt. While some will likely decry a remake of any of Park's trilogy as cinema sacrilege, I have to confess that Monahan seems a smart choice for this task. As the heralded screenwriter of Martin Scorsese's The Departed, he not only showed he could weave a twisted tale that deals in questionable morals and murder, but also showed he has a skill for adapting foreign properties since that film was a loosely based on the 2002 Hong Kong thriller Infernal Affairs.
Asked what Monahan has in mind for the script, he stated:
The original Sympathy For Lady Vengeance starred Yeong-ae Lee as a woman who was blackmailed into taking the blame for the murder of a young boy when her own child was threatened. Now, 13 years later, she's out of jail and out for revenge. It's the kind of role Theron could really sink her teeth into, and it seems like she's finally secured a scribe who shares her enthusiasm for this brutal yet beautiful story.
Staff writer at CinemaBlend.
Your Daily Blend of Entertainment News
Thank you for signing up to CinemaBlend. You will receive a verification email shortly.
There was a problem. Please refresh the page and try again.