Check Out These 60 Classic Movie Scenes Recreated With Lego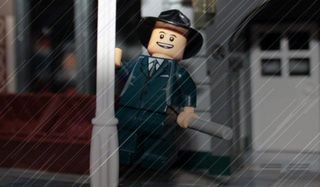 A film enthusiast with a penchant for Lego has re-created some of the most famous movie scenes in history for a short film that you can't help but be charmed by. You can check out his creation below, and it's a pretty delightful way to spend just over two minutes of your day.
Pretty nifty stuff, I think you'll admit. What makes this video even more remarkable is that a 15-year-old schoolboy by the name of Morgan Spence created it. When I was 15 I couldn't even turn on an Atari. Spence spent three weeks assembling his rather ingenious short, which pays homage to the likes of Life Of Pi, Titanic, Dracula, The Shining and The Wizard Of Oz. However that doesn't even come close to documenting the films that Spence has honored.
Spence starts off at the Academy Awards where a presenter declares, "Here are the nominees for Best Film." Of course if all of the films that are featured in the clip had actually been released in the same year then I think the Academy would have had to create at least six other categories in order to reward their stupendous efforts. Spence then dives straight into Gene Kelly's famous performance of the titular song from Singin' In The Rain, before we get a glimpse of John Travolta and Uma Thurman's dancing from Pulp Fiction, Elliot and E.T. flying their bike in front of the moon, and then various other recreations from the likes of Dr No, Breakfast At Tiffany's, Wayne's World, The Sound Of Music and Dirty Dancing too. If push came to shove I'd easily say that the tip of the hat to Garth and Wayne's head-bashing to Bohemian Rhapsody was my favorite scene. However they are all pretty awesome.
Speaking to the Daily Mail, Spence discussed the effort that went into his film. He admitted that he worked closely with Warren Elsome, who recently released the book, Brick Flicks: 60 Cult Movie Scenes & Posters Made From Lego, on the project and that his previous work landed him the job.
Despite Spence's brilliance, I'd still say that it's only the second best Lego video of the year. After this beauty …
But to be fair to Morgan Spence, he wasn't working with their budget.
Your Daily Blend of Entertainment News