Check Out These Posters For Modern Movies Re-Imagined With Classic Casts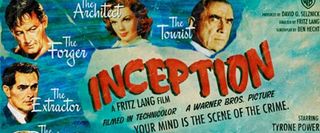 As a medium, film is one that is eternally looking back. Whether it be mining past hits for sure-to-score remakes, alluding to past works with visuals or music, or describing contemporary actors along the lines of well established stars, the film industry loves to revel in its own history. Inspired by moviemaking's inherent fascination with its own past, New York-based illustrator Peter Stults has turned the movie nostalgia concept on its head by re-imagining modern movies as classics with a string of inventive movie poster mock-ups.
While you can see his full portfolio at his web gallery, we've selected our favorites below.
First up, Wes Anderson's breakthrough love triangle tale Rushmore re-imagined as a Nicholas Ray drama led by his Rebel Without a Cause star James Dean opposite Sabrina starlet Audrey Hepburn and often chipper everyman James Stewart. Bonus points for Stewart's bemused expression.
Next, what if rather than being set in the deviant, heroin-fueled world of 1980s Edinburgh, Trainspotting took place in the decadent atmosphere of swingin' '60s London? There Jean Luc Godard would capture the recklessness and beauty of youth with the devastatingly bold performances of brooding newcomer Anthony Hopkins (The Lion in Winter), offbeat pretty boy Michael Caine (Alfie), rising star Terrence Stamp (Billy Budd), stirring character actor Ian Holm (A Midsummer Night's Dream) and enchanting ingénue Julie Christie (Doctor Zhivago).
Or what if five-time Oscar-nominated star Al Pacino followed his iconic turn in Scarface with a tale of a loner with a dark past who is finally pushed to the edge? With Sam Peckinpah directing, it's a guarantee those claws would not result in PG-13-friendly violence.
Now, imagine if you will, if the twisted mind who brought you such scary stories as House of Wax and The Bat spawned a tale a city besieged by ghosts. Who you gonna' call? Horror icon Vincent Price obviously.
Wow. Some of these posters are so masterfully realized that I would genuinely love to see the films they could have been. Which would you actually want to watch? Sound off in comments.
Staff writer at CinemaBlend.
Your Daily Blend of Entertainment News
Thank you for signing up to CinemaBlend. You will receive a verification email shortly.
There was a problem. Please refresh the page and try again.