Chris Pine Pens And Stars In Indie Comedy Mantivities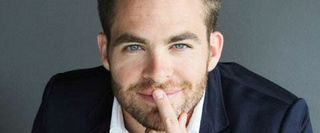 Star Trek's Chris Pine got a bit of a beating earlier this year when the action-comedy he headlined with Tom Hardy, This Means War, stumbled at the box office and was hammered by critics. Still, things are looking up for the handsome leading man with a winsome demeanor. Pine will show his drama chops in June in Alex Kurtzman's People Like Us. He has recently wrapped on the wildly anticipated Star Trek 2, and is gearing up to front the presently untitled Jack Ryan project, based on the popular Tom Clancy thriller novels. But Pine has a mind to carve out his own opportunities, and Deadline reports he has just set up a comedy script of his own with newly minted production company Waterstone Entertainment.
Awkwardly titled Mantivities, the screenplay Pine penned with friends Will Greenberg, Drew Howerton, Robert Baker, Ian Gotler and Tony Liebetrau centers on a batch of thirty-something buddies who are each stuck in rut of manchildhood. Together they decide to make a quest of becoming real men—presumably through partaking in "manticivities." Pine is also set to produce and star in the film and while there's no mention if the other scribes will also star, as each is an actor—admittedly with far less fame than Pine—it seems guaranteed. And good for them! Pine has hit a stage in his career where he can begin to create vehicles for himself and his friends, and as long as the work is interesting—or in this case funny—then more power to him.
Staff writer at CinemaBlend.
Your Daily Blend of Entertainment News
Thank you for signing up to CinemaBlend. You will receive a verification email shortly.
There was a problem. Please refresh the page and try again.