Christian Bale Shares The Batman Advice He Gave Ben Affleck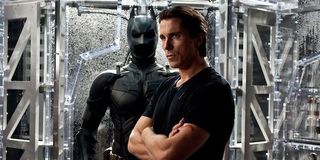 Over the course of Christopher Nolan's Dark Knight trilogy, Christian Bale's take on the caped crusader defined the character of Batman for many a moviegoer worldwide. With his suave Bruce Wayne persona and growling Batman voice, he proved iconic, making it difficult for anyone to follow in his footsteps - even an Academy Award-winner. We don't envy Ben Affleck the daunting task of taking up the cowl for Batman Vs. Superman, but perhaps those outraged fans who decried his casting might calm down now that Bale himself is showing his support for Batfleck.
io9 tipped us to an interview Bale did with Access Hollywood for the upcoming drama Out of the Furnace. In it, he responded directly to Affleck's casting with grace and warmth, saying, "I wish him all the best. You know, he's a very experienced actor and filmmaker. He'll make it his own. Our thing [Christopher Nolan's and mine] is finished. And we always declared it was finished. It should be passed on to another actor, and it will be again after him."
Asked what advice he may impart to Affleck, Bale--unlike fellow former Batman George Clooney--didn't shy away from some suggestions. However, his advice had more to do with the practicality of Affleck's batsuit than any actual performance tips. He explained:
I have to admit, this is an obstacle to playing Batman that has never occurred to me. Nonetheless, it seems Bale's batsuit notes are well timed as the look of Batman Vs. Superman's Dark Knight is now in the works. Rumor has it the filmmakers are looking at the graphic novel "Batman: Noel" and the DC/WB video game Injustice: Gods Among Us for inspiration. Get a glimpse of the latter in this chilling trailer announcement:
You can see more from this interview, including Bale's thoughts on BatKid, in the clip below:
Batman Vs. Superman will hit theaters on July 17th, 2015.
Your Daily Blend of Entertainment News
Staff writer at CinemaBlend.