George Clooney Refuses To Give Ben Affleck Batman Advice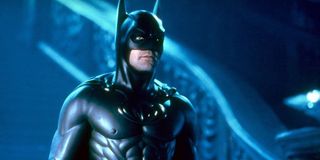 The dust is still settling on the Batfleck announcement, with stars and fans still grudgingly taking sides on whether or not the casting of Ben Affleck is a great idea or a horrendous one. With a whole month having gone by since this news hit the internet like a bomb, it's about time someone asked former Batman George Clooney what he thinks of the Batfleck brouhaha, and thankfully Empire (via Comic Book Movie) did just that. Notably, Clooney and Affleck recently collaborated together on Argo; Clooney as producer and Affleck as producer, director and leading man. As star of the infamous Batman & Robin, Clooney is well aware of the downside to playing the Dark Knight, and declared:
In case you've forgotten how embarrassing Clooney's venture as Batman was, let's revisit the trailer for Batman & Robin, shall we?
I'd argue we can't really blame Clooney for how bad Batman & Robin was. He didn't add nipples to the Batsuit. That was director Joel Schumacher's brainchild. And really, who in their right mind turns down the role of Batman? Even if he does have to sport rubber nipples and say things like "Why is it that all the beautiful ones are homicidal maniacs? Is it me?" I mean, like the meme goes:
Clooney isn't the first Batman to speak up on Affleck's behalf. The former caped crusaders have almost formed a support group for their newest member. Val Kilmer of Batman Forever and Adam West from the 1960s Batman TV show have offered public encouragement proclaiming :
Here's hoping this Batman brotherhood will help Affleck stay strong in staying off the comment boards regarding his casting. But in case he doesn't, he should take solace in that at least the backlash actually came with getting the role. Comedian Donald Glover has to field heated hatred after it was simply suggested online he should play Peter Parker in The Amazing Spider-Man. But at least he handled it well. (Check it the 1:15 mark.)
Your Daily Blend of Entertainment News
Staff writer at CinemaBlend.