Cloudy With A Chance of Meatballs Sequel To Feature New Cast Members And Food Animals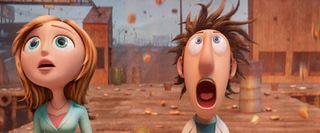 The inventive animated feature inspired by Judi and Rob Barrett's charming children's book, Cloudy With a Chance of Meatballs centered on Flint Lockwood, a wacky scientist whose innovations fail to catch on until he solves his town's food shortage by manipulating the weather to make it rain their favorite treats! The results were at first enviable, then dangerous but ultimately hilarious and entertaining. So what could its sequel Cloudy 2: Revenge of the Leftovers have in store for Lockwood and his chipper Gal Friday, Sam Sparks? The short answer is mutants. Delicious, delicious mutants.
EW reveals that the leftovers of the sequel's title are food that has evolved into strange new animals, like watermelephants, tacodiles, shrimpanzees, apple pie-thons, and a nonsensical chattering strawberry called Barry. But not every munchable mutant is so sweet. Some—like a giant, french-fry-legged bacon cheesespider—threaten to destroy what is left of Swallow Falls!
Bill Hader and Anna Faris are back on board to reprise their roles as Lockwood and Sparks respectively. And Hader's former Saturday Night Live co-star Will Forte is also returning. But while Forte played a minor role in the first Cloudy, he'll be bringing his unique and absurd comedic gifts to the creation of world-famous super-inventor Chester V (as in the letter, not the Roman numeral), a figure described by the film's producer Kirk Bodyfelt as "Steve Jobs, Richard Branson and Indiana Jones rolled into one." The character will serve as Lockwood's foil, and thus requires a primate pal of his own. So while Flint has his loyal but dopey pet monkey Steve, V has Barb, a sassy and smart talking orangutan played by quirky comedienne Kristen Schaal.
Also new to the voice cast is The Expendables star Terry Crews, who'll be taking over for Mr. T, voicing the beleaguered local policeman Earl Devereaux, as T opted not to return. However, James Caan, Andy Samberg and Benjamin Bratt are back, playing Flint's briskly flustered father, local celeb 'Baby' Brent and the ever-handy cameraman Manny respectively. In short, it sounds like a really excellent ensemble!
Cloudy 2: Revenge of the Leftovers will open in 3D on February 7th, 2014.
Staff writer at CinemaBlend.
Your Daily Blend of Entertainment News
Thank you for signing up to CinemaBlend. You will receive a verification email shortly.
There was a problem. Please refresh the page and try again.