Cocaine Smuggling Ring Busted Using Minions And Frozen Toys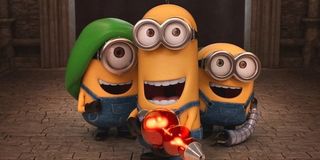 In news that will rival that Dolph Lundgren starring in Kindergarten Cop 2 report for the most bizarre story of the day, the New York City authorities have busted a massive drug ring that was using Minions and Frozen toys, among others, to smuggle huge amounts of cocaine into Manhattan.
According to NBC New York, after an extensive surveillance and wiretap campaign, a high-level drug smuggler named Albert Fortosa was arrested along with four others. Fortosa and his cronies were mailing boxes of cocaine from Puerto Rico to Harlem hidden in gift boxes and packaged along with toys, including those adorable yellow Minions and Olaf, the Josh Gad-voiced snowman from Disney's hit animated film Frozen.
Knowing that they're full of cocaine certainly gives you a different perspective on the manic grins and that bizarre, incomprehensible language that the Minions speak. I guess it also explains why you might think a snowman was talking to you—do you think they chose Olaf due to the obvious allusion, or did they just have a bunch of extra Frozen toys laying around?
Authorities intercepted five packages, containing two pounds of illicit narcotics, with a street value estimated at $225,000. Addressed to people with fake names, or citizens who had nothing to do with the nefarious drug ring, the packages were dressed up to look like birthday presents. They were even wrapped, though in addition to the children's toys, these deliveries also included wireless internet router boxes full of cocaine. You also have to wonder why they just had a bunch of empty router boxes lying around.
Fortosa was arrested accepting one of these illegal deliveries, which the police believe he was responsible for arranging. Also part of this alleged conspiracy was Daniel Reyes, a Brooklyn based distributor; Derrick Santana, who was reportedly responsible for moving these drugs through nightclubs in Brooklyn and Manhattan; Joseph Owens, one of Fortosa's partners; and Mallory Claudio, another individual who factored into the scheme. They were all arrested on August 4.
In a move straight out of a television police procedural like The Wire, or some similar program, police worked backwards using wiretaps, surveillance, and various undercover drug buys. Santana was the first suspect to pop up on their radar. As they kept an eye on his activities at an assortment of nightclubs throughout the city, he inadvertently led them to Reyes, who supplied the drugs to Santana, and up the ladder the investigation went.
There are 71 total counts, and, thus far, all of the defendants have pleaded not guilty, and are being held on bail. They are all expected to appear in court shortly.
Your Daily Blend of Entertainment News
Thank you for signing up to CinemaBlend. You will receive a verification email shortly.
There was a problem. Please refresh the page and try again.