Dolph Lundgren's Kindergarten Cop 2 Has To Be Awesome, Right?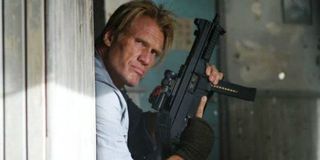 Dolph Lundgren is trying to prove once and for all that he's not just a poor man's Arnold Schwarzenegger by taking over one of the Austrian thespian's most beloved films and making it his own. No, not Terminator. Or Conan. Or Predator. Nope, Lundgren is going to star in Kindergarten Cop 2. In fact, he's already filming the sequel right now.
According to the supremely named Manly Movie, Lundgren is currently filming the sequel that no one asked for and can't believe is even happening in Vancouver, Canada. Pictures of the Rocky IV star wearing a full on suit and tie while standing in front of a room of children on the set of Kindergarten Cop 2 have emerged, and it's impossible not to raise just a wee smile at the possibilities.
Dolph Lundgren decided to join the film after reading David H. Steinberg's script. Steinberg has previously wrote films like American Pie 2 and Big Fat Liar 2, while Michael Don Paul, who helmed Jarhead 2: Field Of Fire, will direct the production on yet another follow-up.
A brief synopsis for Kindergarten Cop 2 has also been released, which explains that Lundgren's character is on the hunt for a missing flash drive that has been taken from the Federal Witness Protection Program. As you can probably tell by the title of the film, this flash drive has somehow ended up inside a kindergarten class, and now it's up to Lundgren to go undercover to find it.
Manly Movie also revealed that Lundgren undertakes this task with the help of "an Indian sidekick named Sanjt," while the bad guys who are trying to pick up the flash drive before he can get his mits on it are Albanian. I think we can all agree that this plot is just about as flimsy as the original's, which saw Arnold Schwarzenegger's John Kimble going undercover to catch a drug dealer.
Despite its ridiculous premise, Kindergarten Cop actually proved to be a hit. Made for around $15 million, it went on to gross $202 million, though reviews were relatively mixed. While I know that the latter doesn't sound like a positive, when you consider just how bad the film sounded, I think we can all admit that's a win.
Interestingly, Arnold Schwarzenegger wasn't actually the first choice to play John Kimble. Bill Murray, Patrick Swayze, and Danny DeVito were each approached, but decided to turn it down. Ivan Reitman, who directed Kindergarten Cop as well as the likes of Ghostbusters, Twins, and Junior, then approached Schwarzenegger, and the rest, as they say, is history. History that is currently being repeated with Dolph Lundgren in Schwarzenegger's shoes.
Your Daily Blend of Entertainment News