Frozen Director Confirms That Crazy Tarzan Conspiracy Theory, Sort Of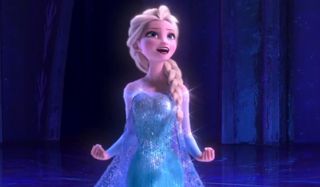 Stop me if you've heard this one: there are some conspiracy theorists out there who think that Walt Disney Animation secretly made Tarzan the long-lost brother of Anna and Elsa from Frozen. That would mean there's a secret shared cinematic universe of Disney, but what's the real story behind this theory? According to Frozen co-director Chris Buck, it's true…but only in his head.
Sorry, folks, but if you were holding out hope for any sort of validity, you'll have to keep on believing in your imagination. Buck is well versed in all of the crazy Frozen theories, and according to this one, Anna and Elsa's parents didn't die at sea. Yes, their ship capsized, but they washed ashore a mysterious jungle. The queen was pregnant at the time of the journey and gave birth to a baby boy during this tumultuous journey. When they came to the shore, they built a treehouse for shelter but were eventually eaten by a leopard, leaving the boy to be raised by gorillas. Buck told MTV News during a recent press event for the Walt Disney Animation Studios Shorts Collection,
Minus the penguins, this is the same origin story for Disney's Tarzan, which was also directed by Buck, so you can see why some tried making this connection. Unfortunately, it's all a figment of our joined imaginations.
There are tons more theories to keep your mind preoccupied. Another Frozen hypothesis links the hit animated film with The Little Mermaid. Remember that sunken ship Ariel swims through? It looks an awful lot like the ship carrying the king and queen of Arendall. But if Buck debunked the Tarzan connection, then this one definitely isn't accurate, either. Then there's another, slightly disturbing theory one fan postulated regarding the mother of Kristoff's reindeer, Sven. Apparently, some would believe that the coat Kristoff wears is made from his buddy's mom, which is not something we want to be thinking about.
This is all fun and games until we finally get Frozen 2. Buck and his co-director, Jennifer Lee, are developing a sequel for Disney, after their initial film broke massive box office records for the Mouse House. According to Buck, who spoke with Fandango recently, Elsa and her sisterly bond with Anna will once again be at the center of the story. With the ending of Frozen and the adjoining short film Frozen Fever, we see Elsa beginning to have fun again, and Buck promises to explore that more in depth.
Your Daily Blend of Entertainment News