Colin Firth And Emily Blunt Will Steal Identities In An Untitled Black Comedy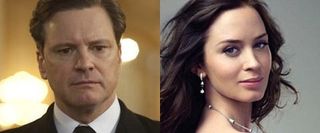 Colin Firth is already set to star in Gambit, his follow-up to The King's Speech that's about as different from an Oscar-winning period drama as you can get-- a caper in which he stars opposite Cameron Diaz as a thief. And Firth seems in no hurry to get back to serious dramas either-- maybe A Single Man really took it out of him?-- as he's now signed on for another comedy, this one opposite Emily Blunt. According to THR former commercial director Dante Ariola will be making his feature debut with the film, and your guess is as good as mine as to how he'll handle the pressure of directing an Oscar winner for his first go-round.
The movie doesn't have a title yet, but will star Blunt and Firth as two people who break into empty houses and steal identities in order to constantly reinvent themselves. It's described as a dark comedy, which means it'll probably not be the kind of confection I'm expecting from the Coen Brothers-scripted Gambit, but maybe all the more interesting for it. Having cruised through Oscar season without ever seeming anything other than humble and ridiculously likable, Firth is still an actor all of us will see in pretty much anything; Blunt, having gotten through her own December release Gulliver's Travels relatively unscathed, is nearly as appealing as he is. Despite the age difference they're a good match, even in a film I can't quite figure out from this distance. Domestic and international rights are currently being sold at Cannes, so it's unclear when we'll be seeing it, though shooting is set to start in the fall.
Staff Writer at CinemaBlend
Your Daily Blend of Entertainment News
Thank you for signing up to CinemaBlend. You will receive a verification email shortly.
There was a problem. Please refresh the page and try again.