Comic Con: Complete Cast Of Joss Whedon's The Avengers Revealed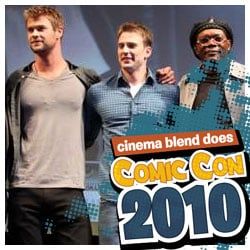 Big news was just delivered over at the Marvel Comic-Con panel. Everyone can breathe a massive sign of relief because we don't have weeks of casting speculation to endure; the entire cast of The Avengers has been revealed. Here's the official roster:
Samuel L. Jackson as Nick Fury
Robert Downey Jr. as Tony Stark
Clark Gregg as Agent Coulson
Scarlett Johansson as Black Widow
Chris Hemsworth as Thor
Chris Evans as Captain America
Jeremy Renner as Hawkeye
Mark Ruffalo as Incredible Hulk
And here they are, assembled together for the first time on the Hall H stage at the San Diego Comic Con:
I can't tell if I'm just psyched about the cast or the fact that all of this information was delivered in one clean shot. Nope, it's the thought of all of these colossal superhero forces uniting in one film. Samuel L. Jackson says it best in a voice over in the film's teaser trailer that premiered during the panel, "And there came a day, a day unlike any other, when Earth's mightiest heroes and heroines found themselves united against a common threat. On that day, the Avengers were born."
Of course we could be getting ahead of ourselves, but it sounds like The Avengers could change the superhero genre as we know it. Yes, there's the possibility that a cast packed with such huge stars portraying such powerful roles in a single film could feel a little cluttered, but I'd like to think Joss Whedon knows what he's doing. He's certainly been eager to talk to anyone and everyone about the project while at SDCC and just seems thrilled to death about it. Well, with a cast like that, who wouldn't be?
For more complete Comic Con coverage go here.
Your Daily Blend of Entertainment News
Staff Writer for CinemaBlend.
Your Daily Blend of Entertainment News
Thank you for signing up to CinemaBlend. You will receive a verification email shortly.
There was a problem. Please refresh the page and try again.