Comic Con Interview: Clark Gregg On Bringing Agent Coulson To Thor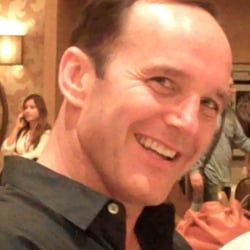 Most of the interviews I conducted with the Thor cast last Saturday at Comic Con revolved around how they felt to be introduced to the Marvel universe-- Kenneth Branagh was excited about the bigger budgets, Chris Hemsworth was struck speechless when the full Avengers cast assembled onstage, and Natalie Portman and Kat Dennings were pumped to be the women in a movie about a god with giant muscles.
For Clark Gregg, though, it wasn't so much an introduction as a surprising continuation of a most unusual career path. Cast as Agent Coulson in Iron Man, a character who didn't even exist in the comic books, Gregg has been surprised to see his character revived in The Incredible Hulk, Iron Man 2 and now Thor, with a big role promised in The Avengers (he says Captain America takes place in the 40s, so he'd need to play Coulson's grandfather to make it in). Gregg was probably more candid and funny than anyone else we interviewed for Thor, probably because he's been through all this madness already. Check out what he had to say below:
Staff Writer at CinemaBlend
Your Daily Blend of Entertainment News
Thank you for signing up to CinemaBlend. You will receive a verification email shortly.
There was a problem. Please refresh the page and try again.