Con Air 2 Might Take Place In The Most Ridiculous Location Possible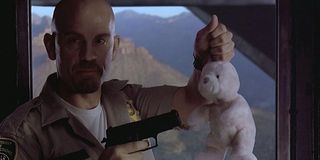 Set the bar as high or as low as you want: one of the great American action movies of the nineties is Simon West's Con Air: a bombastically ridiculous slice of Jerry Bruckheimer excess where one man must stand alone against a plane taken over by vicious convicts. Simon West took what was, on paper, another Die Hard variation (Die Hard On A Prison Plane!) and loaded it with brutal R-Rated thrills, outsized characters and a self-mocking sense of humor that set it apart from its peers. For years, fans have speculated about the follow-up. And so has director Simon West, it seems. Now all we need is an executive crazy enough to make Con Air 2.
Simon West spoke to ScreenDaily about his new project Salty when the conversation turned to a potential Con Air 2. And West was prepared. Oh, was he prepared.
Con Air 2: Con Space. Yes. Yes. YES.
Okay, so this probably will never happen. For one, you'll never get a cast like that again. We're talking Nicolas Cage in all his long locks-flowing post-Oscar glory as good-hearted Cameron Poe. We're talking John Malkovich as Cyrus The Virus - basically a lizard in man skin. There's an absolutely diabolical turn from Steve Buscemi, and an uncomfortably macho Ving Rhames performance in a movie FILLED with macho performances. There's Danny Trejo giving a slice of real-life-con menace, and even a pre-fame Dave Chappelle as the comic relief that gets snuffed out, as all comic relief should in an action movies - early and cruelly. Filling in the margins were peerless day-players like the salty, pirate-y M.C. Gainey, old dependable Mykelti Williamson, and badass ride-or-die 90's chick Rachel Ticotin. There's also an unconfirmed rumor that Powers Boothe provides a voice. Thankfully, it's only his voice. Had Boothe walked onscreen, surely the film would blow up your television due to sheer toughness, causing a nationwide chest hair epidemic that would turn the hairless into overnight chest wookies.
It also doesn't seem like there's much movement on a Con Air sequel at the studio, which is weird, because someone out there is considering spending his or her tens of millions on a third XxX . But don't look at West: he's busy as he's ever been, with the worldwide success of The Expendables 2 giving his career a shot-in-the-arm. He's just finished his third collaboration with muse Jason Statham, the Heat (no, not that one) remake titled Wild Card. And now he's headed into the great wide wilderness that is crowdfunding for Salty.
The picture is being described as The Hangover meets This Is Spinal Tap, dealing with a reformed sex addict who takes a holiday to Thailand (wait a second...) only to find his wife has been kidnapped by ruthless Thai pirates. It's been adapted by Mark Haskell Smith from his book of the same name, given a re-write by West and comedian Toby Davies, and currently carries a budget of $10 million. West is expecting "big name talent" to jump aboard the project, using a unique financing tool – independently funding the film, while also getting deep-pocketed investors a chance to partner up with the company created specifically to finance the film via equity funds. The project is expected to head in front of cameras in 2015.
West is weirdly busy: in addition to the aforementioned projects, as well as a television show collaboration with The Who, he's also still developing two mega-budgeted films. One is called Tolkien And Lewis, a historical fantasy film about the meeting of J.R.R. Tolkien and C.S. Lewis, the writers of Lord Of The Rings and The Chronicles Of Narnia. That sounds pretty funny, though it could end up being an actual serious idea not meant for laughs. He's also apparently still planning Thunder Run , an ambitious, effects-heavy war film that at one time had Matthew McConaughey, Gerard Butler (Reign Of Fire reunion!) and Sam Worthington attached to star. The film is about American soldiers at the start of the Iraq War who staged a siege on Baghdad. Oddly enough, the film is being planned as a mo-cap movie, which... I dunno guys, that's a little questionable, don't you think? Anyway, cross your fingers and hope West ditches that for Con Air 2 sooner rather than later.
Your Daily Blend of Entertainment News